Belgian horses have long been recognized as one of the largest and strongest horse breeds in the world. With their massive size and impressive strength, these majestic animals have captivated the attention of horse enthusiasts and admirers alike. From their dense, short bodies to their powerfully built hindquarters, Belgian horses are a sight to behold.
In this article, we will delve into the history, characteristics, and contributions of Belgian horses to the world of draft horses.
Belgian horses have a rich history that dates back to the medieval period. Originally bred for farm work and transportation, these horses were highly valued for their immense strength and stamina. Today, Belgian horses continue to be used for a variety of purposes, including agricultural work, logging, and as show horses.
With their impressive size and gentle temperament, Belgian horses have become a beloved national treasure in their home country of Belgium, and are celebrated around the world for their beauty and strength.
In the following paragraphs, we will examine the physical attributes of Belgian horses, their origins, and their contributions to the world of draft horses..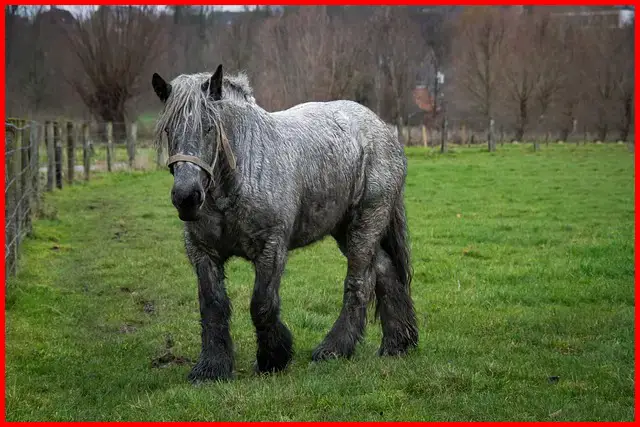 Size and Weight
Despite being known as the bigger and stronger breed, Belgian horses are ironically shorter than Clydesdales, with an average height of 16.2-17 hands compared to Clydesdales' 18 hands. However, Belgian horses are heavier, with an average weight of over 2,000 lbs and can weigh over 3,000 lbs. Belgian horses hold world records for being the largest, tallest, and strongest horse. Brooklyn Supreme, for example, was the world's largest and heaviest horse, weighing 3,200 lbs and standing 19.2 hands tall.
When comparing Belgian horses to Clydesdales, there are some noticeable physical differences. Belgian horses have shorter necks, square heads, and dense, short bodies with broad backs and powerfully made hindquarters. Their legs are shorter, but strong.
In contrast, Clydesdales have a slightly more slender build than most heavy draft breeds, with a long, elegant head, long neck, and a powerful, muscular body. Despite these physical differences, both breeds are popular draft breeds, known for their strength and gentle nature.
History and Origin
The history and origin of the breed of horses commonly known for their impressive size and strength can be traced back to their Flemish great horse ancestors used for warfare and farming in Belgium.
The breeding practices of the Flemish people led to the development of the Belgian horse, which was originally used for plowing fields and hauling heavy loads.
Over time, the Belgian horse became a national treasure in Belgium, and the government supported its development by establishing breeding programs to improve its qualities and maintain its unique characteristics.
The Belgian horse's popularity in the United States has ebbed and flowed over the years, but its versatility has made it the most populous draft breed in the country.
Today, Belgian horses are used for a variety of purposes, including farming, logging, and even pleasure riding.
Despite its impressive size and strength, the Belgian horse is also known for its gentle nature and willingness to work, making it a popular choice for farmers and horse enthusiasts alike.
Popularity and Use
One interesting statistic is that draft horse pulling competitions occur around the country, and Belgian horses dominate the heavyweight division, showcasing their incredible strength and power. This is not surprising given that Belgian horses are known for their strength and have been used for farming and warfare for centuries.
In the United States, the popularity of Belgian horses has ebbed and flowed, but their versatility has made them the most populous draft breed in the country. Breeding programs have been established to preserve the classic Belgian traits, and the breed is considered a national treasure in Belgium, where the government has assisted in its development.
Additionally, Belgian horses have cultural significance as they have contributed to the foundation of all large draft breeds. While they are primarily used for farm work and pulling competitions today, their impressive size and strength continue to make them a beloved and respected breed in the equine world.
Comparison to Other Draft Breeds
In terms of size and build, Clydesdales are slightly taller than their counterparts, the Belgian and Brabant draft breeds. However, despite this difference, all three breeds share similar characteristics such as short necks, square heads, dense short bodies, broad backs, powerfully made hindquarters, and short legs.
The slighter build of Clydesdales compared to other heavy draft breeds may be attributed to their breeding practices, which focused on producing horses that were versatile and agile for farm work as well as for transportation purposes. Genetic differences also play a role in the unique characteristics of each breed.
Clydesdales are known for their feathered legs, which add to their distinctive appearance. Belgian horses, on the other hand, have a thicker, fuller mane and tail. Training and care requirements for these breeds are similar, with an emphasis on proper nutrition, exercise, and regular veterinary check-ups.
Despite their differences, these breeds have all played important roles in farming, transportation, and even in draft horse competitions.
Summary and Conclusion
Belgian horses are renowned for their power, size, and gentleness. They are considered one of the most distinguished breeds worldwide, with a long and fascinating history that dates back to medieval times. These horses stand out for their ability to pull up to four times their weight and their tremendous stamina. They were once widely used for farming and transportation, and their contribution to society has been invaluable. However, their impact goes beyond physical strength, as their gentle temperament and versatility have earned them the nickname "Gentle Giants" and made them popular among people of all ages and backgrounds. Belgian horses have also played significant roles in historical events, such as World War I and II, and have influenced culture and society in many countries.
Their lineage can be traced back to the Flemish Great Horse, a medieval warhorse known for its size and strength. The breed's evolution was influenced by Barb horses, which were known for their endurance and resilience. The blending of these two traits with the Belgian horses' size and power gave rise to a breed that was ideal for farm work and heavy tasks. Today, Belgian horses continue to be known for their strength, versatility, and gentle nature, making them a beloved part of our past and present.
Belgian horses have a unique physical appearance characterized by their broad forehead, compact muscular body, and chestnut or roan coat with a flaxen mane and tail. They are also known for their incredible pulling power, which has been the subject of many competitions and records. Belgian horses have left their mark on art, popular culture, and tourism, making them a special breed that continues to gain popularity around the world.
Taking care of Belgian horses involves providing them with a proper diet, exercise, grooming, healthcare, and adequate housing. They are robust and adaptable, making them relatively easy to care for compared to other breeds. The future prospects for the breed are bright, as they continue to attract new enthusiasts and admirers.
In conclusion, Belgian horses are an exceptional breed that combines power, prestige, and gentleness. Their rich history, unique physical traits, and impact on society make them a breed that commands respect and admiration. As we continue to appreciate their strength and beauty, we must also ensure that we provide them with the care and attention they deserve. Belgian horses will undoubtedly continue to leave their mark on the equine world and beyond.
Frequently Asked Questions
What are some common health issues that Belgian horses may face as they age?
As Belgian horses age, they may develop common ailments such as cardiac disease, digestion disorders, and musculoskeletal issues. Preventative measures include regular veterinary check-ups, proper nutrition, and exercise requirements tailored to their needs.
Are there any unique characteristics or traits that distinguish Brabant horses from Belgian horses?
Brabant horses are similar to Belgian horses, as they were bred to preserve classic Belgian traits. However, breeding programs have resulted in slight variations in conformation and temperament. Historical evolution of these breeds contributed to the foundation of all large draft breeds.
What is the significance of the Flemish great horse in the development of large draft breeds?
As the foundation of all large draft breeds, the Flemish great horse played a significant role in their development. Its strength and size contributed to the creation of horses like Belgian and Brabant, which were used for farming and warfare.
Do Belgian horses have any special skills or abilities beyond their use in farming and warfare?
Belgian horses possess unique athletic abilities, making them suitable for use in therapy programs for individuals with physical disabilities. Their strength, endurance, and calm demeanor also make them a popular choice for competitive carriage driving.
Are there any notable Belgian horse breeders or organizations in the United States?
What notable Belgian horse breeders or organizations exist in the US? The Belgian Draft Horse Corporation of America and the American Belgian Association are notable organizations. Aging Belgian horses may experience cardiac disease, digestion disorders, and musculoskeletal issues, but preventive measures and proper treatment can mitigate these issues.