Palomino horses have been enchanting horse enthusiasts for centuries with their stunning golden coats and whimsical personalities. With their unique coloring and versatility, these horses have become a beloved breed around the world.
From their rich history to their cultural significance, there is much to explore when it comes to the Palomino horse. In this article, we will delve into the fascinating world of the golden beauty: all about Palomino horses.
We will explore their distinct color and coat characteristics, as well as their evolution and history. Additionally, we will discuss the symbolism and significance of these magnificent creatures and how they have captured the hearts of horse lovers around the world.
Whether you are a seasoned equine expert or simply curious about these majestic creatures, join us as we explore all that Palomino horses have to offer.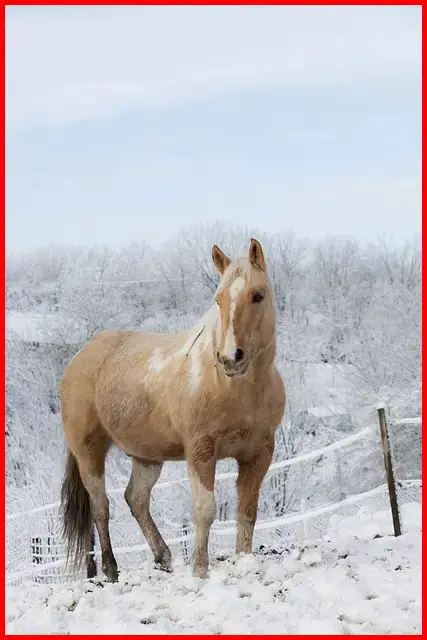 Color and Coat Characteristics
Palomino horses possess a unique coloration that sets them apart from other horse breeds. Their yellow/gold coat and white/light cream mane and tail are the result of a chestnut base coat gene influenced by the creme dilution gene. This combination creates a stunning coat that is highly prized by many horse enthusiasts.
Breed standards for Palominos dictate that their coat should be a rich, golden color with a white or light cream mane and tail. Breeding considerations for Palominos include selecting horses with desirable coat coloration and temperament. The creme dilution gene is dominant, which means that breeding two Palominos together will produce a Palomino foal.
However, breeding a Palomino with a horse that does not carry the creme dilution gene may result in a foal with a different coat color. Breeders may also aim to produce Palominos with specific variations of the color, such as light, golden, chocolate, and pearl. Overall, the striking coloring and unique breeding considerations of Palomino horses make them a highly sought-after breed in the equine world.
History and Evolution
Equine experts have traced the origins of these horses to ancient empires, and their evolution over the centuries has resulted in the breed's unique coloration and desirable characteristics. Palomino horses were first mentioned in Chinese literature dating back to 970 AD, and they were prized by the royalty of Persia and Egypt.
Their light-colored coats were a symbol of luxury and prestige, and they were often used as war horses due to their speed and agility. Breeding practices have played a significant role in the development of the Palomino breed.
In the early 20th century, breeders began selecting horses with the desired golden coat and white mane and tail, resulting in an increase in the number of Palominos. Today, there are several Palomino horse associations, including the Palomino Horse Breeders of America, dedicated to promoting the breed's unique characteristics.
The cultural impact of Palomino horses cannot be overstated, as they have been featured in numerous films, television shows, and books, and continue to be admired for their beauty, versatility, and endurance.
Symbolism and Significance
In popular culture, the Palomino's symbolism as a luxurious and prestigious animal is often portrayed in media and literature. For example, in F. Scott Fitzgerald's The Great Gatsby, the character Tom Buchanan is described as owning a 'string of polo ponies… Palominos with silver-mounted saddles.' The Palomino's striking coat and regal appearance have made it a symbol of wealth and high-quality breeding. However, the Palomino also holds a deeper significance as a representation of connection to nature and resilience.
The Palomino's evolution in desert areas of the Middle East, where it developed its light, shiny coat to survive extreme heat, highlights its ability to adapt and thrive in challenging environments. The breed's endurance and maneuverability also reflect its resilience and ability to overcome obstacles. As such, the Palomino has come to symbolize the pursuit of excellence and the triumph of nature over adversity. Its unique blend of beauty and strength has captured the imagination of people worldwide, making it a beloved and cherished color breed.
Connection to nature
Representation of resilience
Evolved light coat to survive extreme heat
Ability to adapt and thrive in challenging environments
Endurance and maneuverability
Triumph of nature over adversity
Symbolizes pursuit of excellence
Beloved and cherished color breed
Known for their intelligence and loyalty.
Summary and Conclusion
Palomino horses are a color breed that exhibit a yellow or gold coat with a white or light cream mane and tail. Their coat color is created from a chestnut base coat gene influenced by a creme dilution gene. Palomino horses have a rich history that dates back to ancient empires such as Rome, Greece, Persia, Mongolia, China, and Japan. They are believed to have originated in the deserts of the middle east, where their light shiny color evolved to survive the extreme heat.
Spanish nobility fell in love with the Palomino horse in the 1500s, and Queen Isabella kept 100 Palominos reserved for nobility to ride. When Spain sent out her exploration to the New World, she included a Palomino stallion and five mares. These horses provided the stock for the Palominos in North America.
Palominos have four basic color variations: light Palomino, golden Palomino, chocolate palomino, and pearl palomino. The golden Palomino is the most recognizable and desired color of Palominos. A palomino's coat color will change with age and diet. By adding certain minerals and proteins to their diet, the horse's hair will darken, lighten, and look shinier.
Palominos are a color breed, and their temperament should follow the breed more than the horse's color. Roy Rogers's horse Trigger was a Palomino, and although he was not a registered horse, he was famous for being a movie star. Trigger worked in films for 20 years and played in all of Roy Roger's 81 movies and 100 of Roy's T.V. episodes.
Buckskins are often confused with Palominos, but they have dark points and a duller coat than Palominos. Buckskins have a tan coat with black points, while Palominos have a golden coat with a white mane and tail. Palomino horses have their own associations in the United States, the Palomino Horse Association, and the Palomino Horse Breeders of America.
In conclusion, Palomino horses are not only visually appealing but also have a rich history and unique genetics. Their coat color is a result of a chestnut base coat gene influenced by a creme dilution gene. Palomino horses have four basic color variations, and their temperament should follow the breed more than the horse's color. Palominos are a rare and beautiful breed that has captured the hearts of people for centuries.
Frequently Asked Questions
What health issues are common among Palomino horses?
Common health issues among Palomino horses include skin conditions such as sunburn and photosensitivity, as well as eye disorders like uveitis. Preventive care measures, such as proper shelter and sunscreen application, can help mitigate these issues.
How does the personality of a Palomino horse compare to other breeds?
When it comes to temperament, Palomino horses are typically good-natured and willing to please. However, like any breed, training methods and individual experiences can impact their behavior. Temperament evaluation is important to determine a horse's suitability for different activities.
What types of activities are Palomino horses best suited for?
Palomino horses are versatile and excel in various disciplines, including horseback riding and show jumping. Their natural athleticism, endurance, and good temperament make them suitable for these activities, and their flashy coat adds to their appeal in the show ring.
Can Palomino horses be bred with other colors to produce unique coat patterns?
Breeding possibilities for Palomino horses are vast, with coat variations being influenced by genetics. Crossbreeding with other colors can produce unique patterns, however, it may dilute the coveted golden hue of the Palomino coat.
What distinguishes a Palomino horse from a similar-looking breed like the Buckskin?
Palomino horse genetics distinguish them from other breeds like buckskins. Their chestnut base coat gene is influenced by the creme dilution gene, resulting in a golden coat and light cream mane and tail. Palominos have a rich breed history and are admired for their beauty, versatility, and endurance.