Pigs are cute, smart and funny animals. They are also very intelligent and curious creatures. Pigs are often used in experiments because they are similar to humans in many ways.
They can learn new tasks quickly and easily. They are also social animals who enjoy spending time with other pigs
If you want your child or yourself to have an adorable pet that is easy to care for then look no further than the humble pig! Here we will give you some of our favorite pig names so that you know what name suits which personality best.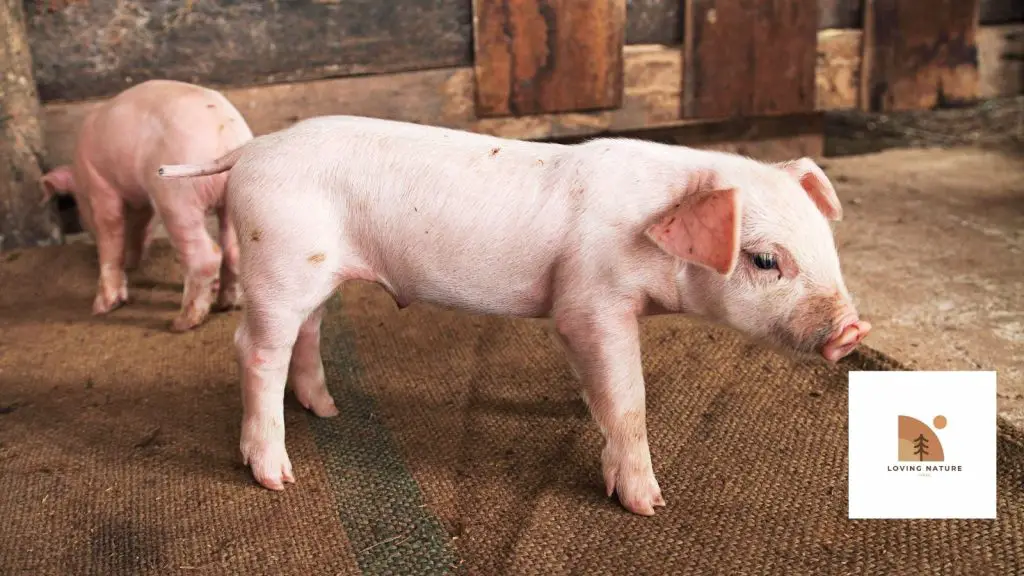 What's a Good Name for a Pig?
Alvin: Its meaning is "wise Friend." It's a good name for giving to your best pig friend.
Here is the list consist of lots of good names for pig
Mabel
Daisy
Oliver
Scarlet
Buttons
Poppy
Onyx
Rossa
Petunia
Lady Lump
Trotter
Dozer
Stinker
Pookie
Lavern
William
Cleo
Freddy
Tui
Alice
Blossom
Posie
Tinker Bell
Prickles
Plum
Dottie
Molly
Grunter
Gilly
Nora
Darlee
Lucy
Erwin
Sully
Shoat
Marco
Kiera
Lulu
Snorti
Vinny
Emma
Truffles
Dixie
Zoe
Hog
Tunie
Poly
Tilly
Winston
Hugo
Stinky
Vernon
Troy
Dixie
Dylan
Henry
Rob
Glenda
Vinny
Wilma
What Are Two Pig Names?
Luna & Sol
Jesse & James
Robby & Sapphire
Romeo & Juliet
King & Kong
Sunny & Moony
Tom & Jerry
Fred & Ginger
Gomez & Peri Peri
Jack & Daniel
Grumpy & Happy
Sonic & Tails
Lady & Tramp
Bow & Wow
Homer & Bart
Chocolate & Chips
Phoenix & Ember
Bart & Lisa
Mulan & Mushu
Polka & Dot
Amos & Andy
Chips & Salsa
Salt & Vinegar
Batman & Robin
Finn & Gus
Sunny & Sparkles
Bart & Lisa
Lilo & Stitch
Fish & Chip
Pongo & Rex
Nemo & Dory
Prince & Princess
Shark & Bait
What Is the Name of a Boy Pig?
If the species is called "pig" or "swine," a mature male pig is called "hog," a young, weaned pig, or any immature pig is called "shoat/shote," and a young, unweaned pig is called "piglet."
Digger: It's a perfect name for boy pigs because pigs are knowns for digging and rooting.
Funny Pig Names Reddit
Notorious P.I.G
Chris P. Bacon
Gentle Gaint
Hamilton
Moo Shu
Chorizo
Patty
Chuletta
Lil Snoots
Poo
Bongo
Gabagoo
Flabby Stabby
Pig Names That Start With P
Pepi
Pippin
Pickle
Pum Pum
Ping-Pong
Putra
Pita
Plume
Pandora
Pavel
Picasso
Puggy
Paine
Pirate
Paul
Parnel
Pebbles
Picolina
Peden
Piano
Poker-Face
Puffy
Parzifal
Perky
Paiton
Passion
Pongo
Peekaboo
Philips
Prancer
Padraic
Perdita
Pretzel
Pinkie
Pepe
Pringle
Petunia
Patrick Star
Prada
Pewter
Pauley
Prissy
Priscilla
Pikachu
Pacino
Pippa
Southern Girl Pig Names
Wilbur
Virginia
Gala
Trixie
Charlene
Stella
Naomi
Mabel
Jolene
Wynona
Collin
Diva
Maybelle
Loretta
Eugenia
Emily
Alabama
Eloise
Gladys
Lisa
Dixie
Jolene
Jewel
Caroline
Abilene
Sophie
Ballerina
Fern
Babe
Melody
Azalea
Josie
Rumple
Loretta
Mimi
Blush
Kiera
Harper
Lacey
Birdie
Fat Guinea Pig Names
Pigglesworth
Tank
Elvis Pigsly
Hamlet
Fabio
Jabba
Homer
Oreo
Twitch
Bart
Matty
Winston
Dale
Colt
Chomper
Thumper
Guinea Stefani: Gwen Stefani, a well-known singer, and songwriter, maybe famous to you. This one wowed us right away with how basic yet creative it is. Guinea is an excellent substitute for Gwen.
If there are any remaining "No Doubt" fans out there, this unique name might be the one for you.
King Guinidas: King Leonidas, a Spartan hero is the inspiration of this name. For the courageous Spartans, King Leonidas was a fierce war hero.
Pig Names That Start With B
Barnum
Baxter
Bean
Beatrix
BeeBop
Bells
Betta
Bilbo
Bindle
Bitty
Blang
Bloshie
Blung
Boca
Bongo
Boulder
Braun
Brocade
Buddha
Bugsy
Bunsen
Blinky
Bowie
Bane
Bimo
Bienna
Blair
Blithe
Botan
Brent
Brona
Bronx
Byron
Bulana
Broden
Brier
Brasen
Boyko
Boomer
Bloem
Boggle
Blithe
Biagio
Belva
Pigs Names That Start With M
Milo
Muppet
Manric
Max
Marcel
Matt
Macy
Margad
Magoo
Malone
Marita
Marcus
Marley
Marlow
Mary Jane
Meeko
Mabina
Mike
Martillo
Mittens
Mackey
Mattie
Monty
Muse
Maxon
Magaly
Mystic
Mea
Malo
Mack
Megan
Manali
Magola
Mei Hua
Macerio
Mandie
Melinda
Malina
Mi Sun
Manil
Mercie
Pig Names That Start With W
Will
Walter
Wayne
Wilma
Waban
Wayne
Wain
Wesley
Wait
Walby
Whitt
Wilson
Wallie
Walvia
Warton
Wayra
Wheeler
Willa
Wren
Wylie
Wynter
Wuti
Worton
Woape
Walker
Wanda
Wavy
Weis
Wesley
Wilbert
Wrigley
Wizza
Widy
Welch
Boy Pig Names
Mack
Piggles
Chester
Napoleon
Vishnu
Laster
Gus
Wilbur
Pippen
Buzz
Noelle
Joey
Hank
Rustler
Paxton
Ziggy
Theo
Doug
Pignite
Mortimer
Tucker
Wee Wee
Eddie
Otis
Nooch
Waldo
Gryllus
Walter
Partin
Rupert
Oscar
Oswald
Snorty
Winnie
Hugo
Girl Pig Names
Pearl
Maggie
Betsy
Greta
Patsy Swine
Queenie
Avery
Victoria
Isla
Claire
Savannah
Hailey
Leilani
Rylee
Kaylee
Remi
Ximena
Reese
Sloane
Millie
Alyssa
Gracie
Rachel
Lilah
Alivia
Rowan
Camille
Paige
Hayden
Funny Pig Names
Albert Einswine
Barbie Q. Sandwich
Spider Pig
Holly Hocks
Hammibal Lector
Princess Pork
Chewbacon
Heather Hocklear
Kevin Bacon
Oscar Meyer
Big Belly Nelly
Peppa Pig
Boss Hogg
Pig-o-Rama
Peter Porker
Porky Pig
Tommy Hilpigger
Mr.Oinkers
Donald Rumproast
Hermione Hamhock
Lindsay Loham
Pink Wiggles
Tim Derloin
Monokuru Boo: A Japanese pig who looks a lot like Hello Kitty.
Arnold Porkzenegger: A name for your pig who is as strong as Arnold Schwarzenegger, the retired professional bodybuilder, actor, and businessman
Beatrix Trotter: Beatrix Potter is a pig with the same name as the author.
Jimi Hamdrix: a musical name for your pig inspired by Jimi Hendrix, an American musician, singer, and songwriter.
Snort: A clever name for your pig that can't seem to stop snorting Perfect for those looking for funny pig names.
Chewbacca: An endearing pig name that will evoke memories of the charming Chewbacca from "Star Wars."
Cute Pig Names
Amelia
Hope
Dorothy
Ophelia
Bertie
Porky
Gizmo
Celeste
Miss Piggy
Crystal
Mickey
Toby
Devon
Ziggy
Fiesta
Theo
Grace
Lucky
Arlo
Domino
Scooter
Peyton
Checkers
Peter
Sybil
Page
Pumba
Ruby
Pippin
Paxton
Charlie
Hank
Mable
Amora
Leonardo
Badass Pig Names
Ranger
Sledge
Oda
Moxie
Trapper
Ripley
Alpha
Reno
Intel
Bourbon
Nation
Sniper
Rock
Scary
Jobs
Hellion
Dirt
Butcher
Trapper
King Piggy
Goldust
Maximus
Blades
George
King Hog
Okja
Thresh
Hercules
Shadow
Judge
Azog
Blackjack
Shark
Crusher
Mortar
Trigger
Bomber
Jax
Newton
Smokehouse
Ponda
Rooter
Zoinks
Coffin
Bones
Fury
Mini Pig Names
Petal
Dopey
Fudge
Tootsie
Firecracker
Runt
Ladybug
Mickey
Percy
Pudsey
Harry Plopper
Avo
Clarence
Rosita
Hamilton
Smurf
Alyssa
Bite-Size
Dexter
Thumbelina
Stubble
Ewok
Faya
Morton
Winston
Gimli
Teacup
Munchkin
Small Fry
Minion
Mickey
Chopper
Sizzle
Cargo
Pricilla
Huxley
Romper
Stella Lou
Peddles
Waddle
Hansel
Kiddo
Crackle
Figi
Pixie
Famous Pig Names from TV, Cartoon, and Film
Wilbur: Charlotte's Web was first published in 1952 and chronicles the story of Wilbur the pig and his barnyard friendship with Charlotte the spider. The farmer's daughter pleads for his life and raises him as a pet until he is sold to her Uncle as the runt of the litter and destined to become bacon.
Charlotte devises a scheme to spare Wilbur from his doom, and we like how strongly and unabashedly this odd couple cares for each other (and their offspring).
King Neptune: King Neptune was a male pig used by US Navy Recruiters to collect funds for various projects. He was born in West Frankfort and given the name "Parker Neptune" after his father. King Neptune was a white-faced red pig.
Freddy: Freddy the pig, sometimes known as "Freddy," is the protagonist of a series of books by Walter R. Brooks. He portrays a variety of roles, including a magician, newspaper vendor, and pilot. Walter's work is interesting to read since he watched characters and then humorously wrote about their actions.
Miss Piggy: Miss Piggy is a female pig from "The Muppet Show." She has an appealing personality, as she speaks in French, practices Karate, and enjoys all activities.
When she looks back on her life, she realizes that her father died young and that her mother was not good to her. Miss Piggy had a romantic relationship with Kermit the Frog.
Hamm: Hamm is a straight-talking plastic piggy bank with a cork in his belly and a good head on his shoulders who debuted in the Toy Story franchise. Andy gives Hamm the terrible alter character of Evil Dr.
Porkchop when he plays with his toys, but in truth, he's a darling, which is why he's ranked eighth on our list of the top ten famous pigs of all time.
Plopper: Plopper, the pig Homer adopts (against Marge's desires) from Krusty Burger to keep him from ending up in one of the burgers, is well-known and loved by Simpsons fans.
He appears on occasion throughout the episodes, hunting truffles and causing mischief, but he is best recognized for his appearance in The Simpsons Movie, in which he takes on the moniker Spider Pig and walks across the ceiling with the help of Homer.
Truffles: From Happy Tree Friends
Little Pig Robinson: From the Tale of Little Pig Robinson
Gub-Gub: From Doctor Dolittle
Pigby: From Pushing Daisies
Unique Pig Names
Addison
Calico
Wrinkle
Manfred
Vanity
Icicle
Ludwig
Rerun
Tusker
Snout
Crafty
Penelope
Cali
Oinks
Pancetta
Dolce
Cool Pig Names
Cobra
Nixie
Pistol
Lux
Jedi
Gauntlet
DJ
Solo
Reaper
Saber
Cerberus
Ryder
Pentagon
Pink Pig Names
Pinky
Cotton Candy
Bud
Blush
Taffy
Flower
Vered
Valentine
Cherry
Astilbe
Mauve
Rouge
Roos
Barbie
Peach
Mouve
Black Pig Names
Pitch
Flint
Onyx
Charcoal
Crow
Onyx
Seal
Momba
Nero
Drogon
Domino
Ninja
Phantom
Spider
Char
Dahlia
Nebula
Selena
Blackie
Galaxy
Mystery
Raisin
Twilight
Felix
The Black
Black Belle
Farm Pig Names
Balrog
Attila
Kraken
Smaug
Hulk
Clifford
Hogan
Galen
Barrick
Knox
Alden
Boyd
Avery
Gideon
Clayton
Emmett
Bennet
Lyman
Carson
Arizona
Our Top 13 Pig Names
1) Piggy
This is one of the most popular baby pig names around today. It's short and sweet but it has a lot going on behind those big eyes. The word 'piggy' means something small and insignificant. But this little guy isn't like any other piggy out there. He loves being loved by his family and friends. And he doesn't mind sharing either. So if you think your kid needs a friend who won't take advantage of him then this might be just the right name for him.
2) Porky
Another good choice for kids who love food.
3) Piggie
The word "piggie" comes from the French word "petit-cochon" meaning "little porker". This name was given to babies born between 1885 and 1900.
4) Poppy
A poppy is a flower that grows naturally all over the world. In fact, poppies grow everywhere except Antarctica. These flowers were named after the Greek god Apollo. His symbol was a golden poppy. If you want to call your pig Apollo, then go ahead. You could even make up your own story about how he got his nickname. For example: Your son says that when he sees a beautiful sunset, he thinks of Apollo. That's why he calls himself Apollo. Or maybe your daughter likes to play dress ups? She wears her hair long and she wants everyone to see her pretty face. Her friends call her Apollo too.
5) Peanut Butter & Jelly
Pigs are cute, smart and funny animals. They are also very intelligent and curious creatures. Pigs are often used in experiments because they are similar to humans in many ways.
They can learn new tasks quickly and easily. They are also social animals who enjoy spending time with other pigs.
6) Peppermint Patty
Peppermint Patty is another classic character from the famous cartoon series called "Sesame Street". A peppermint patty is a candy bar made with chocolate covered mint pieces inside.
7) Pinky
Pink is a colour associated with femininity. When someone uses pink as their main colour, people usually assume that person is feminine.
8) Rascal
Rascals are mischievous young boys or girls. They tend to get into trouble at school. Their parents don't always understand where these rascals come from. Some say they're naughty while others believe they're simply misunderstood. Either way, rascals are fun to watch.
9) Rocky
Rocky is a fictional boxer created by Sylvester Stallone. He's known for starring in movies such as "Rocky", "Creed" and "Escape Plan".
10) Roscoe Roscoe
Is an American television sitcom that aired on ABC from September 19, 1990 until May 21, 1995. The show starred comedian/actor Bill Cosby as well as Roscoe Lee Browne, Keshia Knight Pulliam, Lisa Bonet, Phylicia Rashad, Malcolm Jamal Warner, Anika Noni Rose, Deidre Hall, Marla Gibbs, and Della Reese.
11) Sam I Am
Sam I am is a song written by John Lennon and Yoko Ono. It was released on their album Imagine.
12) Scooter
Scooters are motorized vehicles designed to transport children safely across grassy areas. There are different types of scooters available including tricycles, unicycle scooters, pedal powered scooters and electric scooters.
13) Snickers
Snickerdoodles are cookies baked using two kinds of dough – butter cookie dough and cinnamon roll dough. They have been sold since 1930 under the brand name Snicker Doodle.
Final Thoughts
Pigs are great companions if you have the space, time and resources to take proper care of them. They are intelligent, curious and social animals who enjoy spending their time with other pigs. Pigs can be very playful and affectionate towards humans but they also like to play rough games such as wrestling or chasing each other around a pen. If your pet is not used to being handled by people it may need some training before taking on this role. It's important that you don't force him/her into doing anything he/she doesn't want to do. You should always make sure that your pig has plenty of exercise and fresh air every day. This will help keep his/her mind active and prevent boredom from setting in.