Horse owners understand the importance of providing their equine companions with a nutritious diet that includes hay. However, the cost of hay can quickly add up, especially for those with multiple horses or those who live in areas with limited access to hay. Understanding the factors that affect the price of horse hay can help owners make informed decisions about their feed choices and ultimately save money.
Several factors influence the cost of horse hay, including the type of hay, the quality of the hay, and the time of year. In this article, we will explore each of these factors in detail and provide tips on how horse owners can save money on this essential feed.
By understanding the cost factors of horse hay and implementing our money-saving tips, horse owners can ensure that their equine companions receive the necessary nutrients without breaking the bank.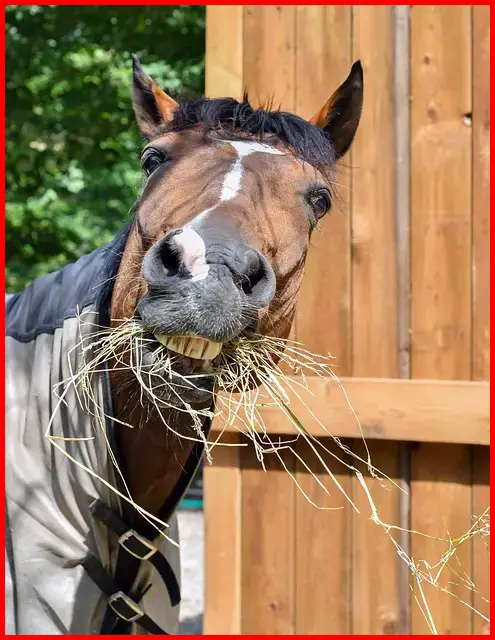 Top 10 Ways to Save on Horse Hay
1. Buy in bulk: Purchasing hay in larger quantities, such as by the ton or by the truckload, can often result in significant savings. Look for local suppliers or farmers who offer bulk discounts.
2. Seek out local farmers: Buying hay directly from farmers can often be more cost-effective compared to purchasing from retailers or middlemen. Connect with local farmers in your area and inquire about their prices and availability.
3. Store hay properly: Proper storage of hay is crucial to prevent spoilage and wastage. Ensure that your hay is stored in a dry, well-ventilated area away from moisture and pests. This will help preserve its quality and nutritional value, allowing you to make the most out of each bale.
4. Consider alternative forage options: In addition to traditional hay, explore alternative forage options such as pasture grazing, haylage, or silage. These options can often be more cost-effective and provide a nutritious diet for your horses.
5. Share hay purchases with other horse owners: If you have multiple horses or know other horse owners in your area, consider pooling your resources together to purchase hay in bulk. This can help reduce costs and ensure that everyone has an adequate supply.
6. Attend hay auctions or local events: Hay auctions or local events related to agriculture and livestock often offer opportunities to purchase hay at competitive prices. Keep an eye out for these events in your area and take advantage of any potential cost savings.
7. Consider hay substitutes: Depending on your horse's specific dietary needs and health requirements, you may be able to supplement or replace certain portions of their hay with alternative feed options. Consult with a veterinarian or equine nutritionist to determine the best approach for your horse.
8. Evaluate hay quality and nutritional value: While cost-saving is important, it's essential to prioritize the quality and nutritional value of the hay you feed your horses. Poor-quality hay can lead to health issues and deficiencies. Balance cost savings with the need for nutritious hay to ensure your horses' well-being.
9. Utilize hay feeders or slow feeding methods: Implementing hay feeders or using slow feeding methods can help minimize hay wastage. These solutions prevent horses from trampling, soiling, or overeating on hay, allowing you to make the most out of each bale.
10. Monitor and adjust hay intake: Regularly assess your horses' hay consumption and adjust the quantity accordingly. Overfeeding can lead to unnecessary expenses and health issues, while underfeeding can impact their overall well-being. Be mindful of your horses' needs and make adjustments as necessary.
Remember, consult with a veterinarian, equine nutritionist, or experienced horse owner for personalized advice on hay feeding and cost-saving strategies specific to your horse's individual needs.
Cost Factors
Various cost factors such as hay type, quality, and bulk purchasing can significantly impact the price of a bale of hay for horses. The type of hay is a crucial factor influencing the cost, with alfalfa being more expensive than standard grass hay bales.
Legume hays, such as alfalfa, are high in protein and typically used to feed working horses, while grass hays are typically low in protein and used for pasture maintenance or to maintain weight. Timothy hay, on the other hand, is a high-quality horse hay, but it's not always available in some regions. Mixed hays, which provide a good balance of fiber and protein, are ideal for horses who need it.
The quality of hay also affects pricing. Sellers and buyers look at the color, freshness, moisture content, and nutrient content to determine hay quality. Hay bales are graded for quality and value, and higher grades cost more.
To ensure high-quality and contamination-free hay, it is advisable to buy from a reputable dealer who can provide graded hay. The right hay affects a horse's health, and it's crucial to ensure that the type bought provides the animal with all of their nutritional needs to prevent illnesses and costly vet bills.
Horses need to eat about 10% of their body weight in hay for their digestion to perform correctly.
Types of Hay
Grass hays are commonly used for pasture maintenance or weight management, while legume hays are preferred for feeding working horses due to their high protein content. Alfalfa, Timothy, and bermudagrass are the most popular types of hay for horses, and each has its own benefits.
Alfalfa hay is high in protein, calcium, and other essential nutrients. It can help horses gain weight, improve their coat quality, and strengthen their bones. However, alfalfa hay is also more expensive than other types of hay, and it can cause digestive problems if overfed.
Timothy hay is a high-quality hay that is low in protein and high in fiber, making it a good option for horses with digestive issues or those that need to maintain their weight. It is also easy to digest and has a low sugar content, making it an excellent choice for horses with metabolic conditions.
Bermudagrass hay is a popular hay type in the southern United States, where it is grown in abundance. It is high in protein and low in fiber, making it an excellent choice for working horses that need a lot of energy. However, it can be challenging to find high-quality bermudagrass hay outside of the southern states.
Grass hay is typically low in protein and high in fiber, making it a good choice for horses that need to maintain their weight or for pasture maintenance. However, it may not provide enough nutrition for working horses or those with special dietary requirements.
Choosing the right type of hay is essential for ensuring the health and well-being of your horses. By understanding the benefits of different types of hay and matching them to your horse's specific needs, you can help them thrive and perform at their best.
Quality and Grading
Hay quality is determined by factors such as color, freshness, moisture content, and nutrient content, and it is graded for value accordingly.
The color of hay indicates its stage of maturity and the nutrient content it contains. Bright green hay is the most nutritious and desirable, while yellow or brown hay is less nutritious and may contain mold or dust.
Freshness is also an important factor, as hay that has been stored for too long may lose its nutritional value and become less palatable for horses. Moisture content is also critical, as hay that is too moist may spoil and become contaminated with fungi or bacteria, which can cause illness in horses.
Nutrient content is evaluated based on the amount of protein, carbohydrates, fiber, and other essential nutrients that the hay contains.
To ensure high-quality and contamination-free hay, it is crucial to buy from a reputable dealer who can provide graded hay. Hay bales are graded for quality and value, and higher-quality hay is more expensive.
Buying from a reputable dealer helps to ensure that the hay is fresh, free of contaminants, and contains the appropriate nutrient content for horses. It is also important to store hay properly to prevent spoilage and to buy hay in season to save money.
By paying attention to hay quality factors and buying from a reputable dealer, horse owners can provide their animals with the best possible nutrition and avoid costly vet bills.
Tips for Saving Money
One effective way to reduce expenses when purchasing hay for horses is to seek out a local supplier who can provide good-quality hay at a lower cost. Buying hay in bulk is another option to save money, as it typically costs less per bale. This is because suppliers often offer discounts when buying a large quantity of hay, making it an attractive option for horse owners who need to purchase a significant amount of hay.
Storing hay properly is also crucial in saving money. Hay should be stored in a dry, well-ventilated area to prevent spoilage and mold growth. This can be achieved by keeping the hay off the ground, covering it with a tarp to protect it from weather and moisture, and ensuring proper airflow.
By implementing proper storing methods, horse owners can extend the lifespan of their hay, reducing the need for frequent purchases and ultimately saving money.
Summary and Conclusion
"Horse Hay: An Owner's Guide" is a comprehensive article that provides valuable information for horse owners on how to choose the right hay for their horses. The article emphasizes the importance of selecting hay that meets the nutritional needs of horses based on their age, metabolism, breed, size, and health profile. It discusses the different types of hay available, including grass hay and alfalfa, and provides insights into which type may be more suitable for specific horses. The article also explores the forms in which hay is available, such as bales, cubes, and pellets, and highlights the benefits of hay pellets during hay shortages.
The guide addresses the decision of whether to free-feed horses and the considerations to keep in mind when making this choice. It emphasizes the impact of age, metabolism, and exercise levels on a horse's hay consumption. Additionally, the article stresses the importance of considering the size of the horse's pen and the potential risks of overeating or obesity.
The cost aspect of hay is also covered, with the article suggesting that high-quality hay can lead to better nutrition for horses and potentially lower vet bills. It encourages horse owners to explore various purchasing options, such as buying directly from farmers or considering round bales to save money.
The article provides guidance on determining the best hay mixture for horses based on individual needs and suggests consulting a vet to ensure proper nutrition. It also addresses the question of how many bales of hay a horse needs, taking into account factors such as consumption, climate, access to grass, and supplementation.
Furthermore, the article highlights the importance of avoiding bad hay, including hay with high nitrate content or molds that can be harmful or fatal to horses. It answers common FAQs related to horse hay, such as whether horses can eat hay wet from rain and the potential dangers of feeding moldy hay.
In conclusion, "Horse Hay: An Owner's Guide" serves as a comprehensive resource for horse owners seeking to make informed decisions about the hay they feed their horses. It provides valuable insights into the factors to consider when selecting hay, including nutritional needs, type of hay, feeding style, age, metabolism, breed, size, and pen size. The guide emphasizes the importance of consulting with a vet and considering individual horse characteristics to determine the appropriate hay mixture and quantity. By following the guidelines outlined in this article, horse owners can ensure that their horses receive the necessary nutrients and maintain good health and well-being.
Frequently Asked Questions
What are some common mistakes people make when buying hay for their horses?
Common hay buying mistakes include not considering hay quality factors such as color, freshness, moisture content, and nutrient content. It's important to buy from a reputable dealer and avoid lower quality hay to prevent health issues for horses.
Can hay be fed to horses year-round, or is there a season when it should be avoided?
Feeding hay year-round is essential for horses' health, but quality concerns arise due to factors such as moisture content, nutrient content, and color. Buying from reputable dealers and storing hay properly can help ensure quality.
How does the nutritional content of hay vary between different types and grades?
Nutritional variations exist between different types and grades of hay due to quality factors such as moisture content and nutrient composition. Proper hay storage and transportation also play a role in maintaining nutritional value for horses.
Are there any health risks associated with feeding horses hay that is past its expiration date?
Feeding horses spoiled hay poses serious health risks and should be avoided. Expired hay may contain harmful bacteria and mold, leading to digestive issues, respiratory problems, and other illnesses. Proper feeding practices ensure horse health and wellbeing.
How does the cost of hay for horses compare to the cost of other types of animal feed?
When comparing feed costs for horses, hay is generally cheaper than other types of animal feed. However, alternatives to hay feeding, such as grazing or feeding pelleted feeds, may also be cost-effective depending on the horse's needs and circumstances.