Camel's are amazing animals that have been around for many years. They can be found all over the world and come in different shapes, sizes, and colors. Camels may not be as popular as other pets like dogs or cats but they make great companions! This article is a list of the best camel names to help you pick one for your pet camel.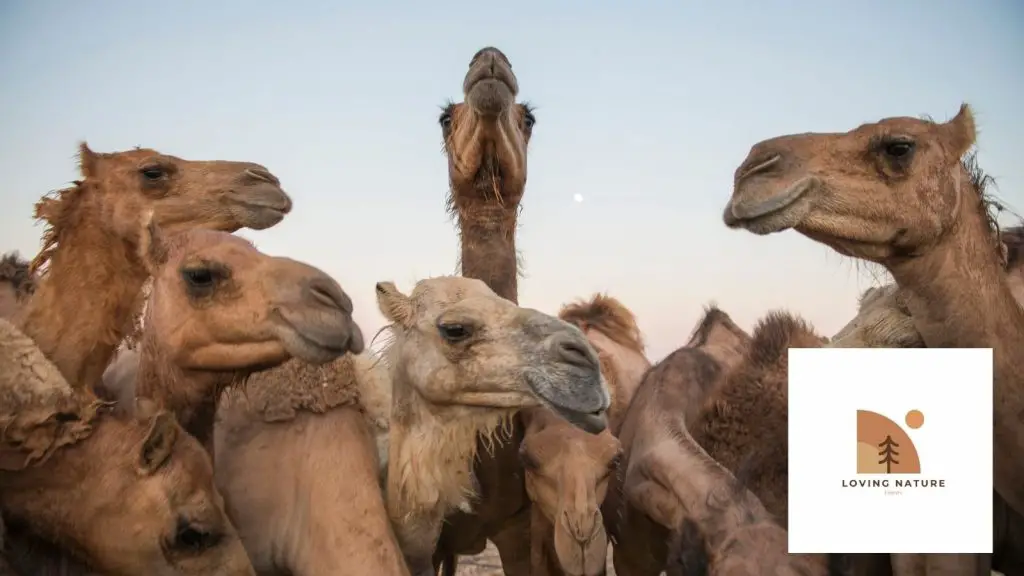 Creative Camel Names
Bahira
Ebel
Bodon
Zamer
Ham
Esher
Khalid
Salim
Sandy
Dean
Ahmad
Zwane
Grumpy
Amara
Amal
Dani
Ruhi
Anisah
Kabir
Mehfooz
Zehaan
Funny Camel Names
Humpy-dumpy
Tantor
PumpHump
Naomi Came
Dromy
Carma
Latte
Curdy
Hunchback
Dr. Humpy
Moneypenny
Leggy
Einstein
Toesy
Leslie
Phineas
Silky
Onta
Butterball
Cuddles
Booplesnoot
Porsh
Molly Pawli
Sherlock
PickapAhole
Ahole
Sumo
Tootie
Punch
Camel Names in Arabic
Dounia: one of the most beautiful names in the Arabic language, Dounia means "the world." It is a lovely name for female camel
Kamal: Kamal meaning perfection, beauty, and completion. It is derived from the word Kamal-Al Din which means the perfection of religion. The meaning perfection of course cannot escape its deep and philosophical connotation. A good name for your beautiful and healthy camel.
Ibrahim: it means "father of many." This cute name is suitable for a camel who has many children.
Nadia: It means tender and delicate. It is derived from the name Nada which means "dew."
Shaden: An Arabic name for an independent baby gazelle. This is also an attractive name for a beautiful-eyed female camel.
Tahira: An exotic Arabic name, it means 'pure and chaste'. It is the perfect name for your innocent girl camel.
Fahad: Fahad is an Arabic origin name that means 'leopard' or 'panther.' It is a suitable name for your most active male camel.
Qasim: Qasim means the one who divided his goods amongst others. It's a perfect name for your friendly natured camel.
Jazmin: This is a stylish and elegant name that means "jasmine flower."
Zakiyah: it means intelligent. It's a beautiful name for a genius mind camel.
Egyptian Camel Names
Name: Meaning
Akil: Intelligent
Ammon: God of a united Egypt.
Anum: Fifth Born
Bomani :Warrior
Chenzira: Born on a Journey
Zahur: Flower
Sayed: Lord
Nakia: Pure
Bes: Brings Joy
Fadil: Generous
Gyasi: Wonderful
Jumoke: Loved by All
Thabit: Strong
Hager: Stranger
Yafeu: Bold
Shakir: Grateful
Hasani: Handsome
Cairo: Victorious
Halima: Gentle
Eshe: Life
Jamila: Beauty
Mandisa: Sweet
Masud: Lucky
Moswen: Light Skin
Nassor: Victor
Camel Names and Meaning
Name: Meaning
Liam: Warrior of Strong Will
William: Desire to Protect
Emberlyn: Beautiful Jewel
Gabela: Determined
Mya: Emerald
Qiana: Gracious
Udele: Prosperous
Edrice: Ruler
Zoe: Life
Duncan: Dark Warrior
Leo: Lion
Nicholas: Victory of People
Ryan: Little King
Thomas: Twin
Wyatt: Courageous in War
Tyson: High Spirited
Xavier: Splendid
Zayn: Grace
Iris: Rainbow
Julie: Youthful
Kiara: First Ray of Sun
Nora: Light
Disney Camel Names
Camille: Camille is a light tan camel with a curling tuft of light brown hair on her head. Her muzzle is light in hue and her eyes are green. She is dressed in a light orange collar with the T.O.T.S. symbol and a light orange diaper with cactus patterns.
Cammy: Cammy is a character who appears in Treasure Buddies. She is a baby dromedary camel who has been separated from her mother and forced to work as a draft animal.
Alice
Garfield
Sam
Fred
Shaggy
Casper
Elmer
Kenny
Cartoon Camel Names
Joe Camel: Joe Camel (officially Old Joe) was the advertising mascot for Camel cigarettes from late 1987 to July 12, 1997, appearing in magazine advertisements, billboards, and other print media.
Kaboobie: Shazzan is an animated television show from the United States. The story recounts the adventures of two teenage brothers, Chuck and Nancy, as they ride Kaboobie the flying camel through a mythical Arabian land. Several hazards await them on their quest.
Deborah: Deborah is one of the camel characters of "The Stars." One of the three "not-so-wise" camels. Of the trio, Deborah is the only one paying attention to what's going on.
Cyrus: Cyrus, a know-it-all camel and one of the companions to the three wise men.
Felix: Felix the camel is a character from The Star. He is a light brown camel with a beard-like fur on his chin and brown eyes. who is not sure if he knows anything?
Good Camel Names
Virginia
Jackson
Helena
Austin
Alaska
Ava
Lucas
Henry
Alexander
Levi
Carter
Michael
Jacob
Paisley
Amelia
Ciana
Ariana
Logan
David
Nolan
Colton
Parker
Micah
Jason
Jasper
Calvin
Brody
Camel Nicknames
Ninja Camel
Robin
Manoj
Sumit
Villen
Shaun
Bhavya
Qilla
Bellow
Toe
Camellia
Khaleesi
Grunt
Rustin
Isabis
Chip
Eli
Camel Baby Names
Kiddo
Dexter
Lisa
Olaf
Eric
Little
Bart
Biscuit
Nettie
Woody
Beavis
Toffee
Jerry
Ella
Ren
Felix
Rustin
Daffy
Griffin
Aladdin
Jetson
Snoopy
Brian
Sylvester
Charlie
Peter
Dory
Stitch
Male Camel Names
Atif
Abioye
Erdem
Yavuz
Blink
Hornet
Hamza
Yusuf
Zakariya
Adeeb
Ajmal
Fadil
Essa
Hanif
Hashim
Jalal
Basim
Qalissa
Muslih
Nawfal
Harib
Kbout
Safawan
Shihab
Yahya
Aqlu
Hubal
Salih
Dhawd
Waleed
Utbah
Ubay
Sadiq
Hardy: Camels are prevalent in deserts and can withstand harsh weather, therefore this is an appropriate name for them.
Female Camel Names
Ariel
Blossom
Hazel
Daisy
Rosie
Indigo
Emmy
Ivy
Lacy
Flora
Josie
Farida
Nova
Mika
Ginger
Jennifer
Quinn
Mocha
Gypsy
Sierra
Oprah
Ritzy
Tatum
Winnie
Holly
Raina
Winona
Xena
Kelsey
Sasha
Yeska
Laika
Pepper
Nina
Peanut
Anna: The name is a Latin variant of Hannah, which means "grace."
Cute Camel Names
Tooty
Curdy
Larry
Verbena
Hoofy
Majesty
Penny
Lashy
Herby
Sasha
Ken
Dulce
Tally
Letia
Jen
Smiley
Dodo
Azul
Frank
Cherry
Chip
Matt
Fennel
Haley
Anzac
Wesley
Neema
Azizi
Kelly
Hump
Ivory
Rishan
Carlie
Benji
Sammy
Roasty
Famous Camel Names
Arsu: Arsu was a Syrian divinity who was worshipped in Palmyra. The evening star was linked to Arsu. He was frequently depicted riding a camel and accompanied by his twin brother Azizos, both of whom were regarded as caravan guards.
Vahana: Hindu deities use several transportation modes for their pilgrimage and travel. These vehicles are known as Vahanas. They perform a similar motive as of today's new machines which are used for travel by air, land or sea or any other travel.
Silenus: There is a picture in the museum depicting that Silenus riding a camel from a mosaic depicting the train of Dionysos traveling through North Africa. The plump, balding, old god balances precariously on the back of the camel with a drinking cup and horn by his side.
Camel Names From All Over The World
George – great name for any pet camel
Khalifa – Arabic word meaning "calm" or "peaceful"
Maggie – short form of Magdalene, an English female given name. It means "pure".
Rajah – A royal title used by some Indian princes. The first raja was Raja Chunder Mookerjee who ruled over what became known as Hyderabad State from 1859 to 1912. He built roads, canals, bridges, colleges, hospitals, schools, mosques, temples and many other buildings throughout his kingdom. His son Mir Osman Ali Khan established the Nizam dynasty after him.
Sultan – This term has been adopted into modern usage by Muslims as well as non-Muslims alike. In Islamic culture it refers to the ruler of a Muslim state. Sultan also means "king".
Tiger – Also spelled Taghut; this ancient Persian word literally translates as "wild beast." However, its use today usually implies that the person being addressed is royalty
Abdul – Means servant/slave. Used commonly when addressing someone with whom you have no connection whatsoever. For example, if your parents were friends with my parents I would call them Abdul and they could call me Muhammad.
Adnan – Meaning "noble," "princely" or "highborn." Adnan is one of the most popular baby boy names in Pakistan.
Ajmal – Meaning "lion cub." Ajmal is another very common name in India.
Ali – Meaning "servant" or "friend", but not necessarily so. Common among Arabs.
Amir – Meaning "great warrior." Amir is a popular choice in Afghanistan.
Arif – Meaning "wise man" or "scholar." Arif is a popular name in Turkey.
Asad – Meaning "brave" or "warrior." Asad is a favorite name in Syria.
Azhar – Meaning "knowledgeable" or "learned." Azhar is a popular name in Egypt.
Babar – Meaning "father's brother." Babar is a popular name in Iran.
Bahram – Meaning "strong." Bahram is a popular name in Iraq.
Basit – Meaning "beautiful." Basit is a popular name in India.
Behroze – Meaning "brightness" or "splendor." Behroze is a popular name in Bangladesh.
Behnaz – Meaning "glorious" or "famous." Behnaz is a popular name in Azerbaijan.
Benjamin – Meaning "son of peace." Benjamin is a popular name in Israel.
Burhanuddin – Meaning "proud lion cub." Burhanuddin is a popular name in Malaysia.
Bushra – Meaning "sweetheart" or "beloved." Bushra is a popular name in Lebanon.
Chaudhry – Meaning "chief" or "lord." Chaudhry is a popular name in Pakistan.
Dawood – Meaning "worthy." Dawood is a popular name in Saudi Arabia.
Faisal – Meaning "faithful friend." Faisal is a popular name in Jordan.
Farid – Meaning "wealthy" or "rich." Farid is a popular name in Morocco.
Faizaan – Meaning "victorious." Faizaan is a popular name in Kuwait.
Ghazi – Meaning "holy war fighter." Ghazi is a popular name in Libya.
Hafeez – Meaning "trustworthy." Hafeez is a popular name in South Africa.
Hamza – Meaning "honorable." Hamza is a popular name in Yemen.
Hasib – Meaning "kindhearted" or "generous." Hasib is a popular name in Indonesia.
Iqbal – Meaning "wisdom" or "intellect." Iqbal is a popular name in both Pakistan and India.
Javed – Meaning "charming" or "attractive." Javed is a popular name in many countries including Bahrain, Qatar, Oman, UAE, etc.
Jamil – Meaning "conqueror." Jamil is a popular name in several Arab nations such as Algeria, Tunisia, Libya, Sudan, etc.
Junaid – Meaning "pure heart" or "saintly." Junaid is a popular name in Nigeria.
Kamran – Meaning "magnificent" or "powerful." Kamran is a popular name in Afghanistan.
Karim – Meaning "merchant." Karim is a popular name in some Middle Eastern countries like Palestine, Jordan, etc.
Khalid – Meaning "valiant." Khalid is a popular name in Kazakhstan.
Khalifa – Meaning "caliph" or "leader." Khalifa is a popular name in various Arabic speaking states.
Lahore – Meaning "city of Lahori people." Lahore is a city in Punjab province of Pakistan. It was the capital of British Indian Empire from 1849 to 1947.
Lakshmi – Meaning "auspicious," "prosperity," or "riches." Lakshmi is a popular name in Sri Lanka.
Malik – Meaning "nobleman" or "prince." Malik is a popular name in most Muslim-majority countries.
Mansoor – Meaning "one who has conquered his desires." Mansoor is a popular name in Nepal.
Masoud – Meaning "determined" or "winner." Masoud is a popular name in Tajikistan.
Mohammad – Meaning "most merciful." Mohammad is a popular name in all Islamic countries.
Muhammed – Meaning "the chosen one." Muhammed is a popular name in almost every country with Islam majority population.
Najeeb – Meaning "graceful." Najeeb is a popular name in Maldives.
Nauman – Meaning "handsome." Nauman is a popular name in Pakistani tribal areas Nazir – Meaning "glorious." Nazir is a popular name in Bangladesh.
Neelum – Meaning "river that flows into Indus River." Neelum is a river which separates Azad Kashmir from Gilgit Baltistan.
Omar – Meaning "friend" or "loyalty." Omar is a common male given name in Somalia.
Osama – Means "servant of God." Osama is a common surname for Muslims around the world.
Qasem – Meaning "strong man." Qasem is a popular name in Iran.
Rahul – Meaning "brightness." Rahul is a popular name among Hindus in India.
Riaz – Meaning "beautiful." Riaz is a popular name in Turkey.
Saleem – Meaning "peaceful." Saleem is a popular name mostly used by Muslims in Pakistan.
Samir – Meaning "wise" or "knowledgeable." Samir is a popular name mainly found in Egypt.
Shabaz – Meaning "victorious." Shabaz is a popular name in Pakistan.
Sharif – Meaning "worthy" or "virtuous." Sharif is a popular name in Saudi Arabia.
Sheikh – Meaning "lord" or "master." Sheikh is a popular name in Malaysia.
Syed – Meaning "beloved" or "respected." Syed is a popular name in India.
Tariq – Meaning "revered." Tariq is a popular name in Morocco.
Uzair – Meaning "trusty friend." Uzair is a popular name in Mauritania.
Yasin – Meaning "faithful servant" or "devoted son." Yasin is a popular name in Azerbaijan.
Zain – Meaning "gentleness" or "sweetness." Zain is a popular name in Iraq.
Zeid – Meaning "just." Zeid is a popular name in Lebanon.
Zubaida – Meaning "wealthy." Zubaida is a popular name in Syria.
Final Thoughts
The best camel names are often ones that match the personality of your pet. Consider whether you want a name with meaning, or one that is just fun and unique to make your decision easier. If you are looking for names for other pets whether it be on your farm or any domestic animal make sure to check out our other posts. If you have any names you want to suggest make sure you email us at admin@lovingnaturefarm.com