Cowboys are known to be rugged, independent men who take care of their livestock and the land they live on. It's tough work, and cowboys have to protect themselves from all manner of weather conditions as they do it. But did you know part of a cowboy's protection comes in the form of a hat?
That's right! Cowboy hats can provide more than just a signature style; they help keep a cowboy comfortable and dry while out on the range, working long days in either hot or cold climates.
But with so many different styles and materials used to construct them, how can you tell which hat is best for what job?
In this article, we'll explore the different cowboy hat styles and purposes available so that you can make a choice that will suit your needs perfectly.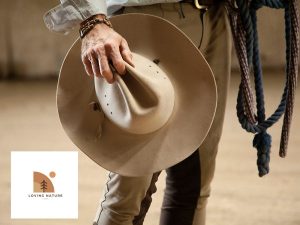 Cattleman Crease Cowboy Hat
The Cattleman Crease Cowboy Hat is one of the most iconic classic hats that you can wear. With its tall creased crown and wide brim, it provides protection from the elements while also giving off an air of sophistication and timelessness. Its unique shape featuring two distinct points gives it an undeniable cowboy flair that is perfect for any occasion, making you stand out amongst your peers.
This hat comes in various colors and materials, so no matter your style or budget, there's something for everyone when it comes to this piece of headgear. When donning the Cattleman Crease Cowboy Hat, you'll feel like you stepped back in time to the Wild West! It adds a certain elegance to any outfit and ensures you look like a true cowboy no matter where you are.
Dimensions:
Height: 4 – 5 inches to crown
Brim: 4 – 4.5 inches
The Gus Cowboy Hat
The Gus Cowboy Hat is a timeless symbol of the wild west, representing resilience, independence, and resourcefulness. It's a round hat with a wide brim that was designed to protect its wearer from the elements while offering an iconic look.
Made from felt materials like wool or fur blends that are specially treated to be crease-resistant and retain their shape for long-term wear, the Gus Cowboy Hat has a pinch crown which rises 3 ½" – 4 ¼" tall offering maximum protection from sun, wind, and rain. Plus it features a decorative band around the base of the crown for extra flair.
This style of hat has been beloved by generations of cowboys, wranglers, ranchers and line dancers alike due to it's fashionable look equally suited on horseback or two feet. From John Wayne to Clint Eastwood in westerns – to modern day country singers performing in concert – there is no mistaking this humble hat: it carries stories of grit and determination wherever it goes. Nowadays you can find Gus Cowboy Hats in an array of colors and styles sure to suit any taste or occasion so get yours today!
The Montana Mix Crease
The Montana Mix Crease is a classic western style cowboy hat. It features a 4-inch brim, standard telescoped crown, and two creases in the crown (one at the front and one at the back), giving it a unique look that will be sure to turn heads. This hat is perfect for outdoor activities like rodeos and horseback riding, as well as more formal occasions such as weddings or barbecues.
It's made from durable materials so you can be sure that it'll stand up against harsh weather conditions for years to come. The 4-inch brim also provides adequate protection from the sun's rays while the standard telescoped crown gives you height and definition. Best of all, this stylish hat comes in various colors so you can express your individual tastes and personal style with ease!
Pinch Front Crease
The Pinch Front Crease is a classic cowboy look that has been adopted all over the world. It's an essential part of a cowboy hat and accounted for over 35% of all cowboy hats purchased in the US in 2019 alone! It features a low-crowned, wide brim and shaped top. Most notably, it features two deep indentations at the front to create the signature 'pinch' look.
This style of hat can be adjusted for everyday activities like attending rodeos or horse shows, or even more formal occasions like weddings and funerals. The wide brim provides protection from the elements such as rain or sun, but its shape may not offer full coverage. All in all, this versatile style of hat is perfect for any kind of western-inspired affair or just looking sharp while out on the range!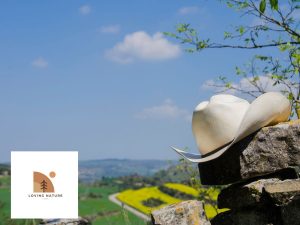 The Brick Crease Cowboy Hat
The brick crease cowboy hat has been around since the 19th century and it is a highly recognizable symbol of the Wild West. It's perfect for dusty trails, long rides on horseback, even long days in the sun – because its wide brim provides more protection from the sun than other styles. Plus, its higher crown helps protect from hot climates as well.
This classic hat can be dressed up with bandanas or dressed down with leather accessories to give your outfit that extra bit of flair. Whether you're taking part in rodeos or just riding your horse around town, this timeless style will keep heads turning!
Add a dash of western charm to your wardrobe when you wear your trusty brick crease cowboy hat. This timeless styling item is sure to become your go-to accessory – with its wide brim, high crown and unique shape, not to mention it'll keep you protected from any unforeseen elements!
Gambler Crease Cowboy Hat Style
The Gambler Crease Cowboy Hat is a timeless, iconic piece of western wear. Its design features a pinch in the front and a sharply V-shaped crease that runs from the middle of the crown to its brim. This style comes in either felt or straw materials and has a wide brim for protection against sun and rain.
Not only does this cowboy hat look great, but it also provides numerous practical advantages. It helps with ventilation so you don't overheat, making it more comfortable than other styles. It's well made so lasts much longer with proper care. And of course, it also adds an instant Western flair to any outfit!
The dimensions of the gambler crease are typically 3-4.5 inches in height and 4-4.5 inches in brim width, making it ideal for anyone looking for classic cowboys style without sacrificing comfort or functionality!
Tom Mix Cowboy Hat
The Tom Mix Cowboy Hat is a timeless classic that will never go out of style. Its signature look features a wide brim, often four inches or more in length, and a tall crown with creases running down the front and back. It also has an eyelet band which is instrumental in providing ventilation during hot summer days spent outdoors.
This type of hat has been around since the days of yore and continues to stand as one of the favorite headpieces among cowboys old and new alike. Whether you're out on the ranch, attending a special event or simply looking to add some extra flair to your ensemble, the Tom Mix cowboy hat is an easy choice that fits any situation perfectly.
If you're looking for another classic style to add to your wardrobe, then you can also explore other iconic shapes such as 'the open crown crease'. With its timeless appeal and unbeatable style, it's clear to see why the Tom Mix remains one of today's most popular choices for both formal and casual occasions.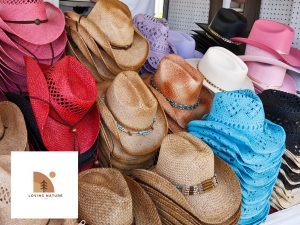 The Open Crown Crease
The Open Crown Crease is an integral part of the cowboy look and continues to be treasured by cowboys all over the world. A crease in the crown of a cowboy hat gives it shape and style, while also protecting it from wear and tear. The open crown crease has been made famous by movies like Tom Mix's throughout the early 20th century – it's easy to recognize with sharp creases that run down either side of the hat, creating a "dip" or "scoop" look.
This classic style serves multiple purposes for cowboys alike. Not only does this hat keep its wearer looking stylish, but it also offers protection from both rain and sun due to its slightly curved brim. It can even be easily adjusted – a few simple steps such as sizing with tape or using steam can stretch or shrink the hat accordingly for optimal comfortability!
Whether you're headed out to work on your ranch, just looking for a fashionable accessory, or both – you can never go wrong with an Open Crown Creased Cowboy Hat! Its timeless design means that this cool style will never get old – so what are you waiting for?
Low Rodeo Cowboy Hat
The Low Rodeo Cowboy Hat is an iconic piece of Western fashion, known for its unique and classic look. It features a flat crown with two downward curves on either side, and a slightly larger brim than other styles of hats. This timeless design has been around for generations and is perfect for adding a bit of sophistication to your outfit or shielding you from the sun on hot days.
With its elegant profile and practicality, the Low Rodeo Cowboy Hat is popular amongst country singers, rodeo riders, and anyone looking for the traditional Western style. As distinct as it may be initially, the Low Rodeo Cowboy Hat shares similarities in construction with both straw and felt cowboy hats when it comes to their purpose. With its classic charm, this piece of apparel will remain beloved in Western circles for years to come.
Straw Vs. Felt Cowboy Hats
When it comes to Cowboy Hats, straw and felt are two of the most popular options. Each has its own advantages, depending on what kind of protection and style you're looking for.
Straw Cowboy Hats are often lighter and more breathable than their felt counterparts, making them the perfect choice for hot summer days when you need something lightweight on your head. Additionally, these hats come in a variety of shapes and sizes so that you can find the perfect one for your head size and style preferences: Gambler, Cattleman, Open Crown or a Shapeable Brim.
Felt Cowboy Hats provide an extra layer of protection against inclement weather like rain or snow while also providing warmth during colder months. Plus, these hats come in a range of colors and styles so you can express yourself through your choice of lid: Roper, Outback, Cowboy or Brocade.
No matter which option you choose ––straw or felt––you can't go wrong with either one! They both offer unique levels of protection while also giving you the chance to express yourself through your hat choice.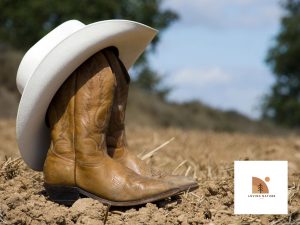 The History Of Cowboy Hats
Cowboy hats have been an undeniable part of our culture for more than 150 years. It was the Mexican and American vaqueros who began wearing these stylish hats made up of various animal hides to provide protection from the sun and other elements, as well as keep their heads warm in cold climates.
John B. Stetson, a master hatter, opened his own factory in 1865 which gave birth to the classic western hat made of felt rather than leather that was immediately adopted by ranchers and cowboys alike. After Stetson's death in 1906, his company — with some creative input — went on to introduce multiple new variations of the design such as the Cattleman's crease and Texas Brim styles which are still quite popular today.
Now, cowboy hats come in two main types – straw for summer wear as it is lighter and breathable, and felt for winter months due to its insulating properties. Through time there have been many changes but one thing still remains certain – a good ol' fashioned cowboy hat will always make an unmistakable entrance!
How To Choose The Right Cowboy Hat Style
When it comes to choosing the perfect cowboy hat, there are a few things to consider. First and foremost, you should decide between a straw or felt hat. Straw hats are ideal for sunny days given their lightweight nature, while felt hats often provide better protection from the rain.
The next stage of selection includes picking out your favorite style. Popular options include Cattleman, Gambler and Outback hats. The Cattleman has a flat crown and wide brim making it an excellent choice for everyday wear, while the Gambler is more narrow and provides a touch of flair to any outfit. Alternatively, the Outback is crafted with a low-profile crown and wide floppy brim – offering maximum protection from sunrays when riding outdoors in the wild west!
Lastly, pick out your size by measuring around where the brim of the hat will sit; including temples and back of neck area – this will give you an accurate fit so your cowboy hat won't fly away at any windy moments!
Once you know how to choose the ideal style for yourself, its time to start thinking about how to keep your cowboy look fresh as ever!
How To Take Care Of Your Cowboy Hat
Knowing how to properly care for your cowboy hat is the key to keeping it looking sharp. Taking the right steps can ensure that you get many years of use out of your beloved hat.
First off, always handle it with care, avoiding tossing and dropping it at all costs as this can damage your hat's brim or other parts. Be sure to brush away any dirt and dust before storing your cowboy hat—this will help preserve its shape and longevity. When it comes time for cleaning, only use gentle products specifically intended for leather and felt hats and keep away from harsh chemicals that could discolor the material or cause damage. Finally, store in a cool, dry place out of direct sunlight in order to protect against fading or deterioration.
By following these simple tips, you can be sure that your favorite cowboy hat will stay looking great year after year!
Conclusion
Cowboy hats remain a popular choice for both men and women who want to express their own personal style. With all the different types of cowboy hats available, it's important to pick one that suits your personality and needs best. Whether you're looking for something simple and classic or something with a bit more flair, there is sure to be a cowboy hat out there that fits the bill.
Frequently Asked Questions
What Is The Most Popular Type Of Cowboy Hat?
What is the most popular type of cowboy hat? It's hard to say what the most popular style is, as there are many different types of cowboy hats available. Each type offers something unique in terms of look and function.
The classic Stetson is a timeless choice, with its wide brim and high crown that's both practical and stylish. Resistol has long been a favorite amongst cowboys, with its durable material and brim shape providing maximum protection from the elements. The Rancher looks great on everyone due to its low profile design and comfortable fit, while the Gambler will turn heads with its curved brim and sleek shape. Finally, the Outback is perfect for those who want something rugged yet fashionable – it has a wide brim for sun protection and its leather construction makes it both tough and handsome.
No matter which style you choose, one thing is certain: a true westerner's sense of style doesn't feel complete without a cowboy hat!
Are Cowboy Hats Good For Sun Protection?
Cowboy hats are an iconic symbol of the American Wild West and many people wonder if they provide protection against the sun's harsh rays. The answer is yes! Cowboy hats have a wide brim which helps to protect your head, face and neck from direct sunlight during outdoor activities such as fishing or horseback riding.
Not only are cowboy hats good for sun protection, but they also boast extra features such as having a shape that reduces glare from the sun coupled with high quality materials like leather or wool which provide superior UV blocking.
So whether you're heading out on an adventure in the great outdoors, or just looking for a stylish hat to add to your wardrobe, there's no better choice than the classic cowboy hat for unbeatable sun protection.
How Long Does A Cowboy Hat Typically Last?
When it comes to cowboy hats, durability is key. The actual material used in the construction of your hat will ultimately dictate how long it will last. A classic leather Stetson or Resistol style hat is known to be the most durable and can last up to 10 years if taken care of properly. On the other hand, straw or felt hats may need more frequent attention but can still last anywhere from 5-10 years depending on how often they are worn and how well you look after them.
To get the most out of your cowboy hat and keep it looking great for years to come, follow these five simple steps; 1) store in a cool, dry place; 2) use a soft brush to clean; 3) never put it in the washing machine; 4) avoid getting it wet; and 5) condition regularly. By doing so, you'll ensure that your trusty headwear can accompany you for many seasons of wearin'!
Are Cowboy Hats Suitable For Different Climates?
When it comes to finding the right Cowboy Hat for any type of climate, you have a lot of flexibility and options. Whether you're traversing a desert, meandering through the mountains or just enjoying your backyard, there is a suitable cowboy hat style and material that can give you maximum protection from the sun, rain, cold or heat.
For hot days out in the sun, look for wide-brimmed hats that will cast a long shadow over your face for ample shade. For cold weathers opting for an insulated lining will help keep your head from freezing up. And if you expect some rain or snowfall during your travels then make sure to get yourself a waterproof cowboy hat! Even if you get caught in an unexpected downpour wool cowboy hats are great – since they won't spoil when wet and naturally repel moisture.
No matter what kind of weather or terrain you're faced with out on the range, investing in the right cowboy hat to fit your specific needs should be priority number one.