The cowboy is a well-known figure in American culture. This article will explore the history of cowboys and their sayings, and some of the most famous quotes from them. We'll also take a look at what it takes to be a cowboy, as well as some interesting facts about them!
A cowboy is an animal herder who tends to cattle on ranches in North America. In this post, we have shared some best cowboy quotes and sayings.
Cowboys aren't known to talk too much. But, when they speak something, their words do have some weight. They don't talk uselessly. If you are a cowboy and looking for a caption to put on social media, consider selecting from the quotes and sayings we have mentioned in this post.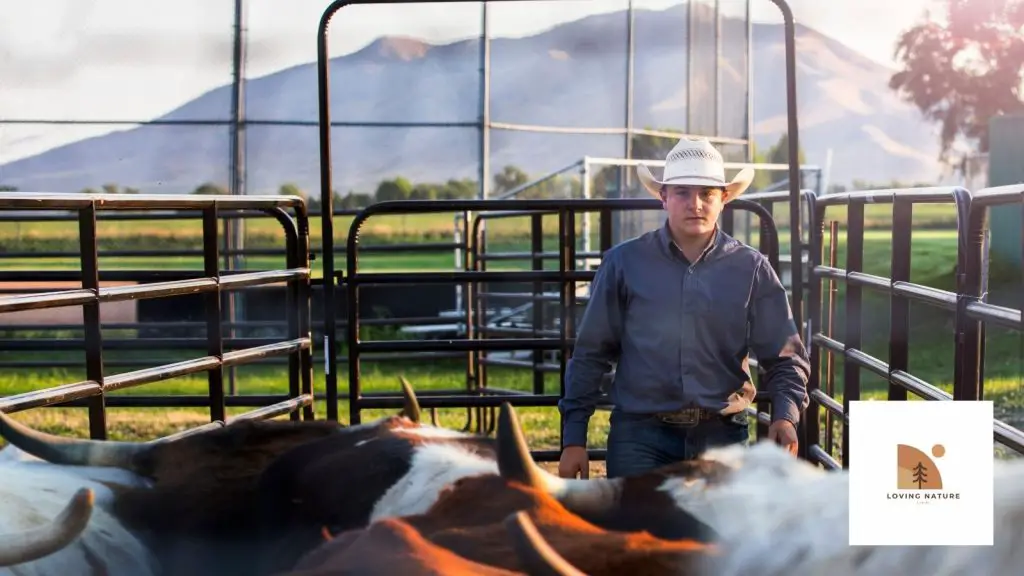 What Are Some Cowboy Sayings?
These are some cowboy sayings that tell that cowboys don't talk too much, but when they do, their words are impressive. These cowboy sayings advise that one should not talk uselessly:
Generally, you ain't learnin' nothin' when your mouth's a-jawin'.
It's better to keep your mouth shut and look stupid than open it and prove it.
When you give a lesson in meanness to a critter or a person, don't be surprised if they learn their lesson.
Talk slowly, think quickly
Here are some more cowboy sayings that provide inspiration and advice on what to do when getting into trouble:
If you find yourself in a hole, the first thing to do is stop digging.
Just 'cause trouble comes visiting doesn't mean you have to offer it a place to sit down.
Lettin' the cat outta the bag is a whole lot easier than puttin' it back.
Nature gave us all something to fall back on, and sooner or later we all land flat on it.
Some cowboys have too much tumbleweed in their blood to settle down.
Sometimes you get and sometimes you get got.
The quickest way to double your money is to fold it over and put it back into your pocket.
When you're throwin' your weight around, be ready to have it thrown around by somebody else.
We all got pieces of crazy in us, some bigger pieces than others.
Here are some more cowboy sayings:
Don't judge people by their relatives.
Don't squat with your spurs on.
Never slap a man who's chewing tobacco.
Don't name a pig you plan to eat.
Don't let your yearnings get ahead of your earnings.
If it doesn't seem to be worth the effort, it probably isn't.
Never approach a bull from the front, a horse from the rear, or a fool from any direction.
Live a good, honorable life. Then when you get older and think back, you'll enjoy it a second time.
The easiest way to eat crow is while it's still warm. The colder it gets, the harder it is to swaller.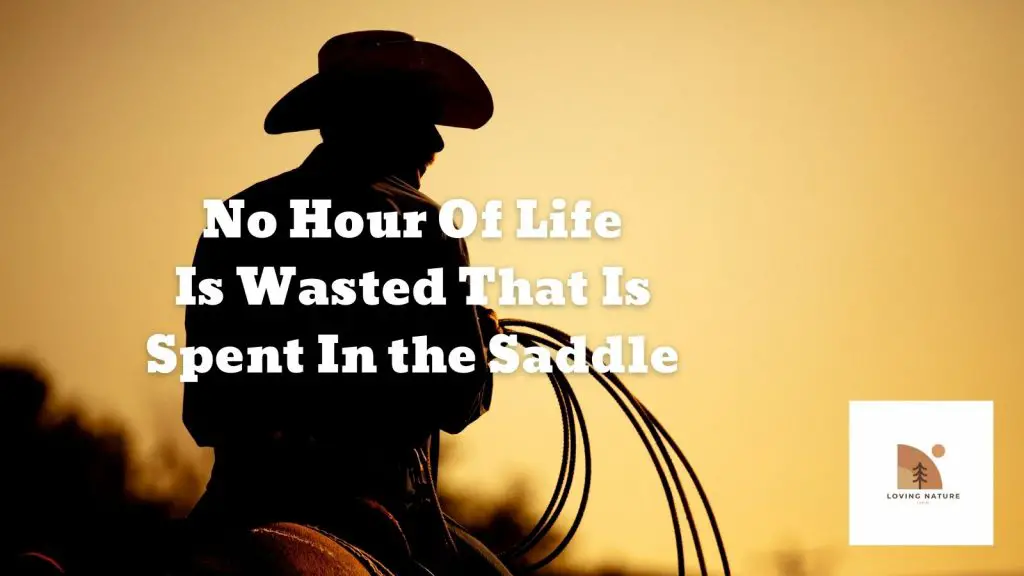 Famous Cowboys Saying
Cowboys are popular in the United States but have gained popularity throughout the world due to cinema and novels. Here are some of the famous cowboy sayings:
"I'm your huckleberry." – Doc Holliday, Tombstone
"I won't be wronged, I won't be insulted, and I won't be laid a hand on. I don't do these things to other people, and I require the same from them." – J.B. Books, The Shootist
This quote by John Wayne tells that don't insult or laid a hand on anyone. We shouldn't do these to anyone and never let anyone do the same to us.
"The only healthy way to live life is to learn to like all the little everyday things – like a sip of good whiskey in the evening, a soft bed, a glass of buttermilk, or a feisty gentleman like myself." – Gus McCrae, Lonesome Dove by Larry McMurtry
The problem with we humans is we are never satisfied with what we have. We keep on complaining about what we don't have. The above quote by Larry McMurtry says that we should enjoy every little thing in our lives. According to Larry, this is the best and only healthy way to live life.
"Every gun makes its own tune."
This famous and funny quote is by Blondie and is from "The Good, The Bad, the Ugly" film.
"When a man is a killer, arsonist, cheat, and a coward, it's hardly surprising if he turns out to be a liar, as well." – Charles Bronson as John Deakin Breakhart Pass (1975)
"A cowboy is a man with guts and a horse." – William James, Western writer
"It's a hell of a thing, killing a man. You take away all he's got and all he's ever gonna have." — Clint Eastwood as Bill Munny Unforgiven (1992)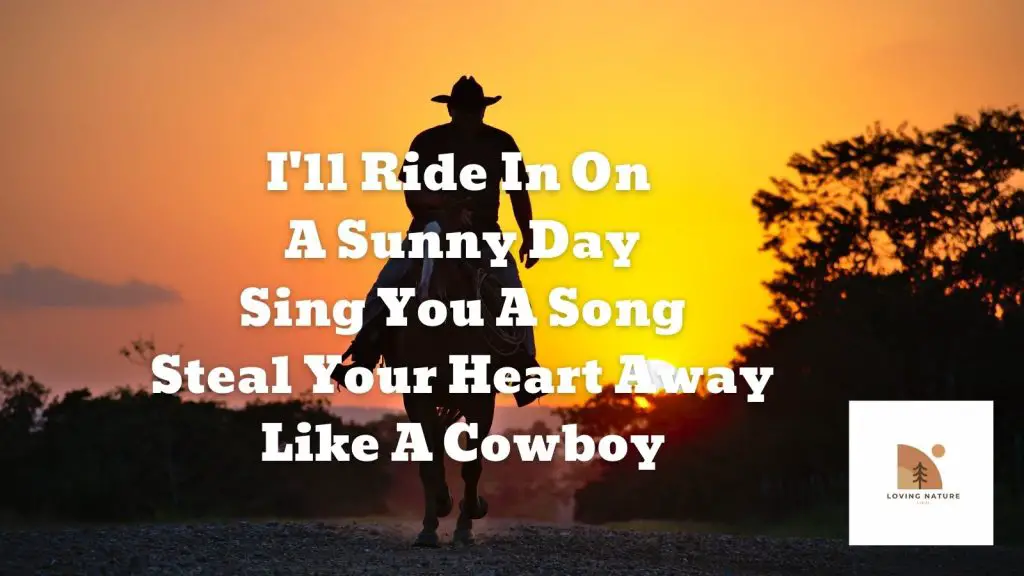 Badass Cowboy Quotes
"Never approach a bull from the front, a horse from the rear or a fool from any direction." – Kelly Eileen Hake
"Never miss a good chance to shut up." – Will Rogers
"You see, in this world, there's two kinds of people, my friend; those with loaded guns and those who dig. You dig." – Clint Eastwood in The Good, the Bad and the Ugly
"But you won't be here to see any of 'em; not by a damn sight, because it's the order of this court that you be took to the nearest tree and hanged by the neck til you're dead, dead, dead, you olive-colored son of a billy goat." – Judge Roy Bean
"Never ask a barber if you need a haircut." – Warren Buffet
The above quote tells that we should not ask someone about their own activity. That's because they are already good at what they are doing. Asking such silly questions is like making fun of yourself.
"I'm looking at a tin star with a drunk pinned on it." – John Wayne
John Wayne Cowboy Quotes
"I won't be wronged. I won't be insulted. I won't be laid a-hand on. I don't do these things to other people, and I require the same from them."
"Talk low, talk slow, and don't say too much."
"No, a human rides a horse until it dies, then he goes on afoot. A Comanche comes along, gets that horse up, rides him 20 more miles… and then he eats him."
"Slap some bacon on a biscuit and let's go! We're burnin' daylight!"
"Courage is being scared to death, but saddling up anyway."
"Tomorrow is the most important thing in life. Comes into us at midnight very clean. It's perfect when it arrives, and it puts itself in our hands. It hopes we've learned something from yesterday."
"Friend, there's nobody up there shooting back at you. It isn't always being fast or even accurate that counts. It's being willing. I found out early that most men, regardless of cause or need, aren't willing. They blink an eye or draw a breath before they pull the trigger. I won't."
"I have tried to live my life so that my family would love me and my friends respect me. The others can do whatever the hell they please."
"Life is tough, but it's tougher if you're stupid."
"Talk low, talk slow, and don't say too much."
"What's the secret of success? Right decisions. How do you make right decisions? Experience. How do you get experience? Wrong decisions."
"Death can come for ya any place, any time. It's never welcomed. But if you've done all you can do, and it's your best, in a way I guess you're ready for it."
"I've always followed my father's advice: he told me, first to always keep my word and, second, to never insult anybody unintentionally. If I insult you, you can be goddamn sure I intend to. And, third, he told me not to go around looking for trouble."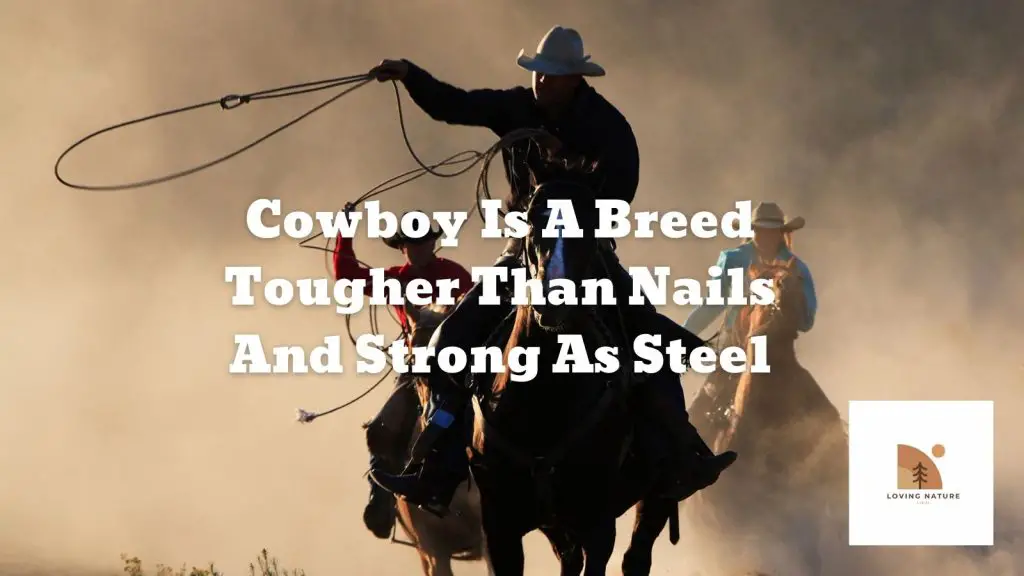 Cowboy Quotes About Friends
"One of the most beautiful qualities of true friendship is to understand and to be understood."
"False friendship, like the ivy, decays and ruins the walls it embraces; but true friendship gives new life and animation to the object it supports."
"I'd rather take 100 enemies over 1 fake friend anyday. At least the enemies let you know where they stand and don't pretend to care. That makes them by a better shot!"
"Things you can give and still keep are your word, a smile and a grateful heart."
"Hold on to good friends; they are few and far between."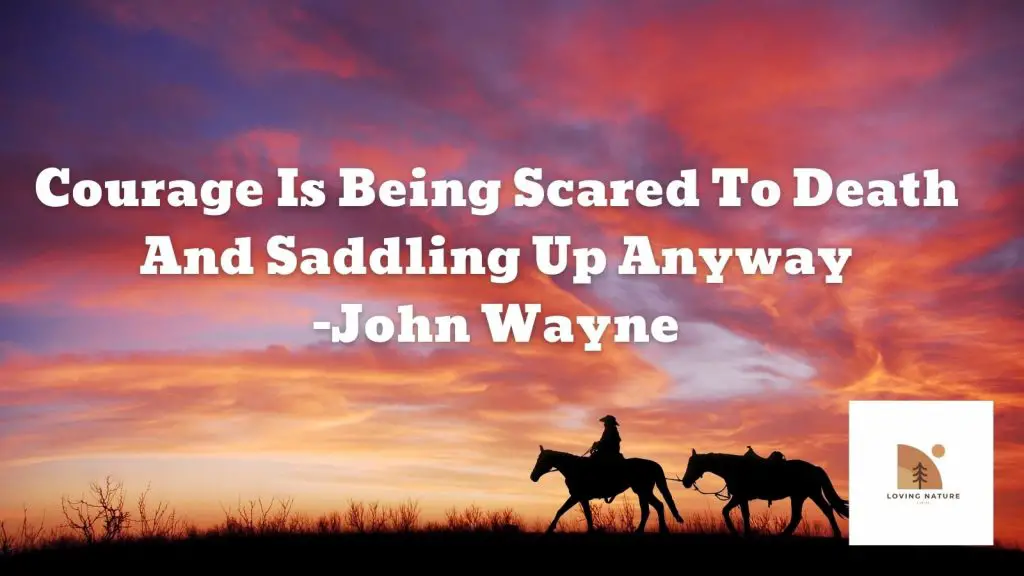 Cowboy Quotes About Horses
"No hour of life is wasted that is spent in the saddle." – Winston Churchill
"Courage is being scared to death but saddling up anyway." – John Wayne
"A horse doesn't care how much you know until he knows how much you care. Put your hand on your horse and your heart in your hand." – Pat Parelli
"There is no better place to heal a broken heart than on the back of a horse."
"There's nothing in life that's worth doin' if it can't be done from a horse."
"A man on a horse is spiritually, as well as physically, bigger than a man on foot." – John Steinback
"A pony is a childhood dream. A horse is an adulthood treasure." – Rebecca Carroll
"There are many wonderful places in the world, but one of my favorite places is on the back of my horse." – Rolf Kopfle
"When in doubt, let your horse do the thinkin'."
"Speak your mind, but ride a fast horse."
Fan Submitted Cowboy Quotes
1. "I'm a man, not a boy." – The best cowboy quote ever!
2. "Cowboys are born and raised on the range; they don't grow up in city apartments." – Best Cowboy Quote Ever!!
3. "A good horse is like an old friend, you never get tired of riding him." – Best Cowboy Quotes Ever!!!
4. "You can learn more from your mistakes than you can from all the books in the world" – Best Cowboy Quotes EVER!!!!!!!!!
5. "The only way to make God laugh is to tell Him what we want while He's changing our minds!" – BEST COWBOY QUOTE OF ALL TIME!!!
6. "If I had my life to live over again, I'd be a cowpoke every time." – Best Cowboy Quotations Of All Time!!!
7. "There ain't no surer sign that there's something wrong with a country than when its cows start acting loco." – Best Cowboy Quotation Ever
8. "It takes one to know one."-Best Cowboy Quotes Ever
9. "When it comes right down to it, most men would rather die than think." – Best Cowboy Quote
10. "Life isn't about waiting for the storm to pass… It's about learning how to dance in the rain." – Best Cowboy Quots
11. "We're just simple people who love each other." – Best Cowboy Quota
12. "He was a great rider but he didn't have any sense at all." – Best Cowboy Quoting
13. "Don't let anyone take advantage of you because you look stupid or ignorant." – Best Cowboy Quoter
14. "Never trust anybody who doesn't drink whiskey." – Best Cowboy Quoters
15. "Sometimes you gotta do things even though you hate them." – Best Cowboy Quoted
16. "Somebody once told me that if you keep doing what you've always done, you'll keep getting what you've always gotten." – Best Cowboy Quoti
17. "People will forget what you said, people will forget what you did, but people will never forget how you made them feel." – Best Cowboi Quot
18. "I'm not afraid of dying, I just don't wanna be buried alive." – Best Cowboy Quote
19. "I am a man of constant sorrow, constantly walking by faith, not sight." – Best Cowboy Quota
20. "No matter where you go, someone will try to sell you something." – Best Cowboy Quoto
21. "Every day has enough trouble of its own without borrowing yours." – Best Cowboy Quotos
22. "All work and no play makes Jack a dull boy." – Best Cowboy Quos
23. "Be careful out here! There are rattlesnakes and wildcats and mountain lions and outlaws everywhere." – Best Cowboy Quoi
24. "What happens behind us does not affect us as long as we stay ahead of it." – Best Cowboy Quosi
25. "In this game, you either win or lose, there's no such thing as a draw." – Best Cowboy
Final Thoughts
Cowboys are an iconic figure in American culture. With their horses and cowboy hats, they have a deep connection with the land and livestock that come from it. Cowboys also carry weight as symbols of freedom because not everyone can be one or live by their code. That is what makes them so admirable to us all! We hope you've enjoyed this article about some famous quotes from cowboys- we know there were plenty more out there- but these should give you something to think about next time your great at riding the range on horseback looking for cattle. If you want help finding even more quotes like these, let our team of experts partner up with yours today! Just fill out our contact form and we'll get back to you soon.