What is one of the best feelings in the world? Getting a new pet. The feeling of excitement when you finally get to take them home and have them all to yourself. However, it can be hard coming up with a name for your new friend. That is why we have compiled this list of donkey and mule names! You'll find something that fits your personality perfectly!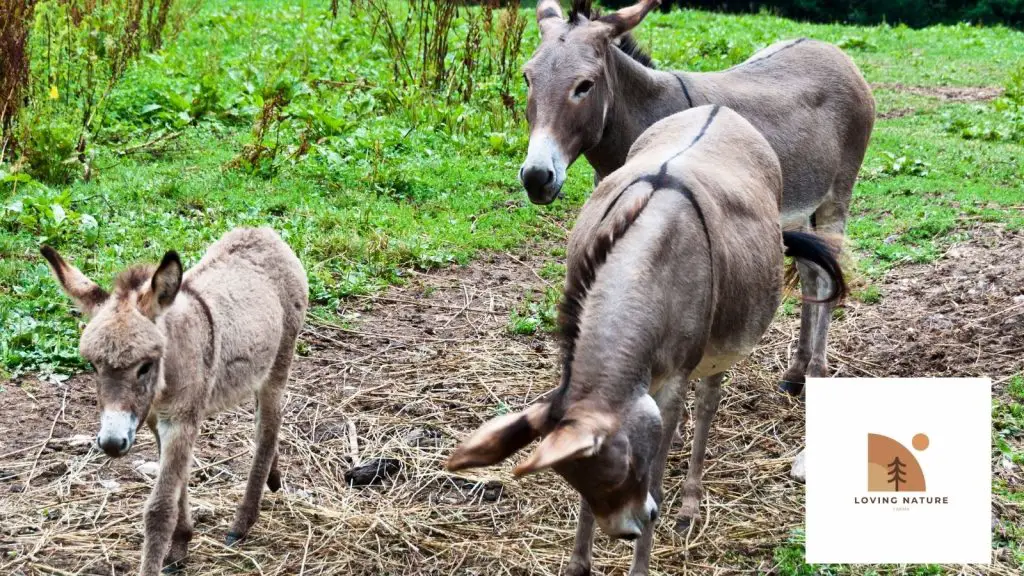 What Are Good Donkey Names?
Hassle
Heirass
Imprass
Jacqueline OnAssAss
Janass
Jassmine
Jassper
Jonass
Josiass
Juliass
Kassy
Lady Asster
Lassie
Lewass
Lucass
Marcass
Matthiass
Nellass (instead of Nellis)
Nicholass
Peachass
Phineass
Princass
Rassberry
San Dimass
Silass
Tassel
Texass
Thomass
Tobiass
Masster of Whispers
Cassanova
Cassper
Cassterly (like the rock)
Chasster
Christmass
Classy
Costass
Cutlass
Dalass
Dariass
Dorass
Dolorass
Douglass
Duchass
Duchass
Eliass
Fergass
Gasston
Andreass
Asspen
Asstronaut
Atlass
Asstyn (Martyn)
Barnabass
Bedassled
Brutass
Boy Donkey Names
Here are some of the best male donkey names:
Hank
Harley
Flinn
Gizmo
Bonner
Bandit
Ace
Apollo
George
Romeo
Blue
Bo
Brody
Jack
Jax
Jasper
Kobe
Peanut
Mr. Small
Rusty
Scooter
Donkey Wonkey
Dumbo
Weirdo
HaulAss
Wookey Donkey
Burrito
Pedro
Texas
Mr. Donkey
Hee-Haw
Wonky
Kong
Dongo
Nestor
Joseph
Alvin
Bagel
Bagger
Birdie
Bob
Bono
Otto
Clooney
Diva
Cosmo
Ebony
Ed
Fido
Ed
Browny
Gills
Gibson
Joy
Logan
Kingston
Eeyore
Gus
Cute Donkey Names
Isabelle
Eva
July
Emily
Caire
Clara
Liz
Girly
Anna
Avery
Dora
Daisey
Choco
Brownie
Kona
Jelly
Cupcake
Hailey
Hank
Harley
Flinn
Gizmo
Bonner
Bandit
Sweet & Sour
Ace
Apollo
George
Romeo
Blue
Bo
Brody
Jack
Jax
Jasper
Kobe
Peanut
Honey
Mr. Small
Rusty
Scooter
Roxy
Tessy
Mimi
Gracy
Pinky
Stella
Sophie
Jo
Tesa
Angela
Burrito
Pablo
Chocochip
Girl Donkey Names
Abril (April)
Adriana
Miss Foody
Alejandra
Ana
Antonia
Bianca
Miss White
Bonita
Camila
Candela
Carla
Catalina
Chalupa
Daniella
Diana
Empanada
Blanca
Zoey
Roxy
Tessy
Mimi
Gracy
Stella
Sophie
Jo
Tesa
Nala
Angela
Irene
Layla
Minnie
Nova
Lulu
Amber
Willow
Sas
Sasha
Pearl
Ava
Ellie
Gracie
Norah
Hazel
Isla
Cora
Gianna
Susie
Sunshine
Quinn
Sandra
Elena
Isabella
Josefina
Juana
Juliana
Julieta
Lucia
Luciana
Luna
Margarita
Maria
Mia
Miranda
Morena (means dark)
Natalia
Nicole
Ivy
Piper
Sadie
Lydia
Emery
Vivian
Betsy
Maeve
Patty
Susie
Deborah
Funny Donkey Names
If your donkey acts foolishly sometimes, you can give him a funny name. Here's the list of funny donkey names:
Wookey Donkey
Burrito
Pedro
Texas
Mr. Donkey
Hee-Haw
Wonky
Kong
Dongo
Nestor
Sax
Oscar
Runner
Rich
Albert Einstein
Lemon
Bonbon
Ears
Horse
Bartholomule
Burro
Kicker
Wonky
Kong
Smart Ass
Jack
Jonass
Honk
Spud
Ferris Mueller
Waffles
Casanova
Douglass
Gasston
Silass
Sassy
Duchass
Eddie Murphy
Yankee
Burrito
Taco
Enchilada
Bagel
Diva
Pony
Runner
Havoc
Bouncey
Nibbles
Zorro
Zipper
Mischief
Gizmo
Tigger
Toro
President
Felipe
Nobby
Shrek
Buckaroo
Sage
Newton
Poppy
Penny
Hazel
Joseph
Tete
Donkey Wonkey
Dumbo
Weirdo
HaulAss
Pony
Dilly
Chewy
Murphy
Donkey In The Bible
There are so many mentions of donkeys in the bible. This quiet animal is often overlooked by we humans. We consider it the dumbest animal in the world. But, there are certain qualities of this quiet animal to be celebrated. During Bible times, donkeys were the symbol of industry and peace.
When we call someone a donkey, we insult them. However, what the bible says is to be like donkeys. In the story of Balaam, how the donkey saved Balaam's life knowing that a warrior angel stood ahead ready to kill Balaam. The donkey of Balaam understood what Balaam failed to understand.
What Are Some Good Names For A Mule?
A mule comes from the parents of two different species – a horse and a donkey. It is an offspring of a male donkey and a female horse. A mule is easier to obtain than Hinny. Now, what is hinny? A hinny is the offspring of a male horse and a female donkey. If you own a mule, here are some of the best names you can consider:
Nestor
Francis
Bruno
Lefty
Mr. Thomas
Mr. Perfect
Jassack
Pony
Saxobar
Jenny
Oliv
Hee-Haw
Patch
Hassle
Burrito
Poncho
Pedro
Pablo
Sax
Eeyore
Buttermilk
Dunkey
Bartholomule
Wonkey
Ears
Horse
Jack
President
Amazmule
Buckaroo
Snickers
Petal
Spicy
Bobby
Candy
McDomule (funny one)
Donkey Names That Start With B
Here is the list of funny as well as cute donkey names that start with the letter 'B':
Barnabass
Bedassled
Brutass
Barbie
Beauty Queen (for female donkey)
Blanco (white)
Babs
Baby
Badger
Bailey
Baliass
Bandit
Banner
Bruno
Burrito
Bianca
Bonita
Bandito
Bart
Bedassled
Bear
Breeze
Bite
Beaver
Beauty
Bella
Betsy
Beyoncé
Bianca
Bieber
Bayblade
Buttermilk
Brave
Billy
Biscuit
Blizzard
Bollinger
Boots
Bourbon
Brandy
Breeze
Bridget
Brownie
Bruno
Brutass
Bubbles
Bucephalass
Buck
Budweiser
Buttercup
Bouncy
Blitz
Bonner
Blue
Browdy
Donkey Names That Start With D
Here is the list of funny as well as cute donkey names that start with the letter 'D':
Dummy
Dumb
Dangerous
Daniel
Darling
D'Artagnan
Daenerys
Daffodil (Daffy)
Dahlia
Daisy
Dakota
Dalass
Dale
Damian
Dancer
Daniella
Dapper
Dariass
Dawn
Dazzle
Denim
Deputy
Derringer
Devil
Dumbo
Donkey Wonkey
Dongo
Drama Queen
Dude
Dom
Diana
Dalass
Dariass
Dorass
Dolorass
Douglass
Duchass
Duchass
Diablo
Diamond
Diana
Dice
Dixie
Doc
Dolly
Domino
Dorass
Dotty
Double
Dream
Dragon
Duke
Dumplin
Dusty
Drogon
Dorito
Duncan
Donkey Names Inspired From Movies, Cartoons, and Superheroes
These names are inspired by various movies, cartoons, and superheroes:
Bruce
Wayne
Romanoff
Wanda
Wade
Logan
Storm
Hulk
Tony
Peter
Steve
Bucky
Falcon
parker
Panther
Kitty
Professor X
Scott
Jene
Erik
Rogue
Mystique
Dude
Bluto
Shaw
Dom
Letty
Tarzan
Blondie
Gandalf
Balboa
Rambo
Eeyore
Small One
Conchita
Francis
Gus
Benjamin
How To Pick The Best Donkey Name?
Picking the right donkey name can be quite confusing. Among the list we have shared, you might be facing difficulty selecting the right name. Firstly, you need to have a clear idea about how you are going to use it. You may have planned it to use as a riding companion, hiking, or just as a pasture pet.
Another way you can find the right best name for your donkey is personality. Donkeys are known to act foolishly. If your donkey also acts stupidly sometimes, you can consider a funny name. Depending on the personality trait, you can give your donkey a funny or a cute name.
Famous Donkey And Their Names
Do you want to give a famous name to your donkey? If yes, this section is for you. Here we have mentioned the names of some of the famous donkeys.
Eeyore
Eeyore is a famous donkey from cartoons. This cartoon character appears in the Winnie the Pooh cartoons produced by The Walt Disney Company. This fictional donkey character in the show was characterized as gloomy, depressed, pessimistic, and anhedonic donkey. If you think your donkey has similar personality characteristics from the Eeyore of Winnie the Pooh, then you can consider this name.
Small One
Small One is the character that appeared in Walk Disney's 1978 animated Christmas short film. The film includes the story of a young boy who becomes best friend with a donkey named Small One. The young boy has four donkeys. Among the four donkeys, Small One is old and weak. He can no longer do the job. The story is about how the boy sells Small One as he can't do enough work to bear the cost.
Gus
Gus name is also inspired by one of Walt Disney's films. Gus is a 1976 family comedy film. In this film, Gus is a football-playing mule from Yugoslavia. In this film, the donkey shows his amazing kicking ability.
Conchita
Conchita is a pet donkey character designed by the National Federation of Coffee growers who always accompanies his master with 2 bags of coffee beans on its back. If you visit Juan Valdez's website, you will find Conchita there.
Francis
Francis is a talking mule that appeared in seven movies in seven years. This talking army mule debuted in the movies during the 1950s. Molly played the role of Francis. Molly performed really as she was well-trained and naturally intelligent. She did it so well that she was the first animal to win the Picture Animal Top Star of the Year award in the year 1951.
Benjamin
Benjamin is a quiet and straightforward donkey. He is the oldest and wisest of all animals in the novel George Orwell's Animal Farm. In the novel, Benjamin is portrayed as a donkey who spends a lot of time remembering the past and thinking about the future.
Dominick
Dominick is a cute, Italian donkey that never kicks. "Dominick the Donkey" is a Christmas song written by Ray Allen, Sam Saltzberg, and Wandra Merrell. And, it was recorded by Lou Monte. In this song, Dominick is a donkey who helps Santa Claus bring Christmas presents for kids in Italy.
Final Thoughts
If you're looking for a name for your new pet, we hope this list has helped! Just remember that these are just suggestions and not set in stone. You should pick the perfect name by yourself because it's all about finding something that fits who they are as an individual. Do you have any donkey or mule names to add? Share them with us below!