Horse names are an important part of owning a horse. They are a way of identifying your horse and making him/her special.
There are many different types of horse names. Some are based on the color of the horse while others are based on personality traits.
Looking for a classic, western name for your horse? We are sure this post will help you.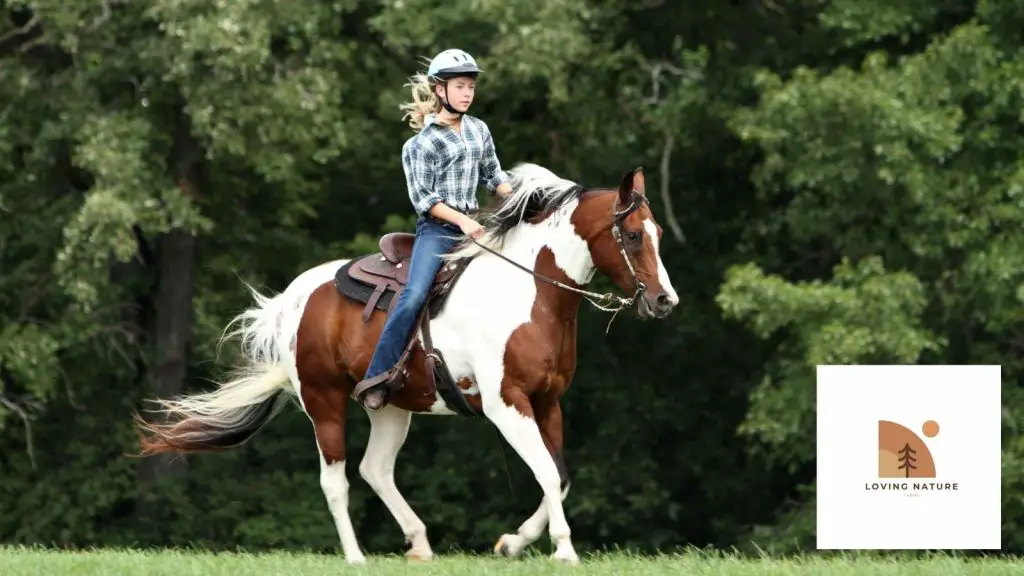 Top Western Horse Barn Names
Rider
Butch
Bandit
Ace-High
Rawhide
Banjo
Ambush
Calamity
Shooter
Bamboozle
Whiskey
Dixie
Bandero
Roper
Gunslinger
Balderdash
Tex
Howdy
Buckaroo
Casanova
Tequila
Apache
Durango
Ranger
Cowboy
Buck
Sawdust
Clyde
Maverick
Ringo
Yeehaw
Sundance
Top Western Horse Show Names
Are you looking for a western show name for your horse? Check out these names:
Show-Low
Tequila Talk
Escaped Outlaw
Shifty Sheriff
Wanted Outlaw
By The Law
Shotgun Ryder
Silver Bullet Babe
Stop the Bullet
Outlaw at Work
Prime Time Gambler
Secret Gambler
True Gambler
Tennessee Whiskey
Whiskey Bottom
Whiskey Charlie
Whiskey For Me
Whiskey Tango Foxtrot
Juan More Tequila
One Shot Tequila
Silver Tequila
Tequila On Ice
Bayou Cowgirl
Cowgirl Sass
Cowgirl Way
Crystal Cowgirl
Denim Cowgirl
Broke Gambler
Gamblers Girl
All Cowboy
Cactus Cowboy
Casanova Cowboy
Dixie Cowboy
Kalico Cowboy
Mares and Fillies Western Horse Names
Here are some of the best western horse names for mares and fillies:
Annabelle
Annie
Arizona
Arrow
Babs
Bailey
Tulsa
Jolene
Justice
Kate
Maybelle
Morgan
Paisley
Rawhide
Rose
Sally
Starr
Stormy
Sundance
Bella
Bess
Betsy
Blaze
Boots
Charlotte
Cowgirl
Curly
Dawn
Duck
Dumplin'
Grainger
Dakota
Daisy
Montana
Sweetheart
Charlotte
Llamrei
Dolly
Sunny – play on Sundance Kid
Dixie
Star
Lottie
Pearl
Bonnie
Patsy
Reba
Wynona
Jolene
Delta
June – June Carter
Sierra – after Sierra Mountain Range
Ruby
Sugar
Spirit
Rain – horse from animated show Spirit
Goldie
Goldstar
Alene
Abigail
Birdie
Dinah
Sue
Flossie
Lily – after quick shooter Lillian Smith
Kitty – Miss Kitty Russel of Gunsmoke
Dell
Della
Belle – famous cowgirl Belle Star
Western Horse Names For Geldings and Stallions
Garrett
Amigo
Marshall
Elvis
Gunslinger
Bale
Bourbon
Johnny
Justice
Silver
Cherokee
Eldorado
Chico
Taco
Knight
Wyatt
Duke
Outlaw
Billy Ray
Banjo
Curly
Gunner
Pete
Tex
Bailey
Boots
Snake
Rider (or Ryder)
Black Jack
Hank
Diablo
Arrow
Cisco
Dumplin'
Rawhide
Daniel
Barrel
Sundance
Waylon
Sunny
Major
Morgan
Durango
Angus
Billy
Tony
Buck
Jeb
Ringo
Bandit
Houston
Colt
Zane
Falcon
Grainger
Smoky
Butch
Tejas
Wade
Yukon
Colonel
Cowboy
Apache
Nevada
Cody
Senator
Copper
Scout
Hunter
Cactus
Champion
Blaze
Roper
Denver
Raider
Reno
Rhett
Amos
Clyde
Grazer
Vegas
Tornado
Dallas
Doc
Duck
Biscuit
Ranger
Brisket
Starr
Cash
Henry
Carter
Cool Western Horse Names
Sunshine
Buttermilk
Pie
Duke
Trigger
Goldie
Pal
Tony
Silver
Pardner
Crazy Alice
Whiskey
Tonka
Koko
Dice
Apache
Stardust
Red Fox
Rusty
Sheik
Buster
Scout
Diablo
Red Buck
Bingo
Knight
Silver Cloud
Loco
Mesquite
Dynamite
Sunfish
Raider
Sugar
Chico
Old Blue
Tex
Sonny
Best Western Horse Names
Trigger
Champ
Rio
Oakley
Bonney
Dale
Gene
Cash
Chisholm
Balki
Whiskers
Jaguar
Scout
Jigsaw
Ranch Horse Names
Toronto
Viking
Trapper
Aries
Whiskey
Wrigley
Yankee
Wildfire
Yukon
Quantum
Bourbon
Queeny
Quincy
Windchaser
Jester
Jazz
Junebug
Quazar
Flower
Fiesta
Jubilee
Fuerte
Dragon
Shimmer
Spartan
Summoner
Solomon
Storm
Symphony
Sniper
Tahoe
Spitfire
Tazmania
Villain
Varsity
Vanity
Trigger
Volcano
Valentino
Vinnie
Tequila
Vagabond
Victory
Tornado
Cobalt
Cimarron
Ashanti
Cyclone
Cheyanna
Anakin
Aeris
Amadeus
Charger
Coyote
Ramiro
Gunner
Florentino
Azul
Sherman
Chan
Sarsour
Rami
Aiko
Abacus
Czar
Clancy
Cade
Aftershock
Apollo
Aquarius
Cowboy
Ambara
Caviar
Aviance
Capella
Asgard
Admiral
Loki
Cappo
Chaos
Commander
Heath
Steele
Hawk
Legacy
Lestat
Aragon
Magnum
Marquis
Lex
Athos
Matrix
Aurora
Maverick
Mirage
Mutiny
Mystic
Maestro
Nirvana
Napoleon
Noble
Nikita
Orion
Paloma
Phoenix
Odysseus
Preacher
Olympia
Random
Paladine
Pilot
Notorious
Rebel
Peridot
Patriot
Othello
Ramses
Outlaw
Rambo
Regal
Remy
Revolution
Remington
Roswell
Samson
Lightning
Sahara
Redmond
Sabre
Rascal
Sergeant
Riverwind
Rowdy
Senator
Zephyr
Saxon
Rogue
Shadow
Ruger
Saturn
Roman
Sherrif
Panzer
Silhouette
Shiver
Knight
Sherman
Skylark
Snickerdoodle
Sheeba
Sidney
Ranch Male Horse Names
Here are the ranch names for your male horse:
Spike
El Dorado
Dash
Taos
Maximus
Axel
Mufasa
Ivan
Galahad
Forrest
Aslan
Kelpie
Killian
Bandit
Ruffian
Domino
Claymore
King
Sorcerer
Tripwire
Lumberjack
Milestone
Osiris
Trojan
Mission
Rascal
Cavalcade
Rush
Hawk
Grizzly
Tornado
Kingston
Blacksmith
Mischief
Prince
Slade
Torpedo
Harley
Eclipse
Bramble
Strider
Espresso
Condor
Kryptonite
Cobra
Zeus
Clove
Thunder
Vortex
Walnut
Teddy
Scepter
Angelo
Falcon
Bentley
Hickory
Rico
Bagheera
Bucky
Baron
Apache
Braveheart
Lancelot
Rawhide
Chess
Colonel
Dexter
Scout
Amos
Mack
Kobe
Benson
Omega
Gunner
Floyd
Caesar
Legend
Flint
Butch
Doc
Sombra
Justice
Ozzy
Clyde
Chronos
Ranch Female Horse Names
Here are the ranch names for your female horse:
Snowball
Maiko
Verona
Sapphire
Gretal
Snowfire
Angel
Baroness
Desire
Blanca
Diva
Glory
Allure
Mimosa
Scarlet
Bluebell
Snowdrop
Calliope
Glitter
Dixie
Jana
Flora
Prada
Esmerelda
Clara
Java
Stardust
Adella
Marigold
Celeste
Harmony
Empress
Duchess
Aphrodite
Gucci
Serenity
Heaven
Destiny
Magnolia
Esperanza
Misty
Jolie
Cleopatra
Narnia
Philadelphia
Andorra
Sydney
Cinderella
Evangeline
Carmen
Sparkle
Princess
Sienna
Olive
Juliet
Octavia
Kalila
Rana
Zaynah
Cala
Samira
Latifah
Farida
Cantara
Jamilah
Janan
Malika
Aminah
Midori
Solaris
January
Tropicana
Unity
Mariposa
Southwestern Horse Names
Rebel
Tex
Weylon
Billy Ray
Peaches
Cash
Pursuit
Fuji
Nellia
Moonshine
Lil' Bit
Mary Hinge
Horse Names From The Old West
These are the names from the old west:
Champion: Champion is a horse featured in more than 70 films, from the years 1935 to 1953. Besides this, it was also featured in Gene's television series. In the year 1955, Champion did his television series, The Adventure of Champion.
Silver: Silver appeared in two films. In the films, Silver appeared as the Lone Ranger's horse. More films were shot on the Republic Pictures' back lots, but they are not visible.
Buttermilk: Dane Evans is the owner of Buttermilk. The story of this horse is quite interesting. He was saved by a farmer on his way to a slaughterhouse. After the rescue, the horse was trained for roping and cutting competitions. After that, Glenn Randall (Hollywood trainer) bought him. Later on, the horse was loaned to Dale Evans by Randall.
Orchid: Orchid was the oldest female horse in the world. She died when she was around 50 years old. Orchid was born in 1964 and died in late 2015. After the rescue, she enjoyed her remaining life peacefully. She was rescued just a year before the death.
Shayne: Shayne made headlines in 2012. Shayne died a year before when his owners were considering entering him into the Guinness Book of World Records.
Old Billy: Old Billy is considered the world's oldest horse. Old Billy was born around 1760. The horse's entire life went into pulling barges in the canals from the sea.
Magic: Magic turned 46 in the year 2015. Magic lives on a California ranch with her owners Bob and Mary Manns. She used to be a competitive barrel racer and pole bender. She won seven awards at the Valley Centers Venquros Club.
Buster: Buster is owned by Clint Eastwood. Clint is a famous American actor, film director, composer, and producer.
Raider: In the 1930s and 1940s, Raider played the Durango Kid in several films. The first film of Raider was "The Quarterback", which was released in 1926.
Trigger: The horse first appeared in the 1938 film – The Adventures of Robin Hood as the Golden Cloud. The film starred Errol Flynn and Olivia de Havilland as lead roles. In that film, Trigger was Miss de Havilland's horse.
Prospect Point: The horse was used as a competitive track racer. Later on, it was purchased to use as a show hunter.
Our Top Picks Over The Years
The following is a list of unique exciting names for your horse that you can use to identify your horse or horses.
1) Black Beauty: This name was given to black horses because they were considered beautiful by their owners. The owner would often call them "black beauty" when he saw one in person.
2) Blue Boy: This name comes from blue eyes, which most people associate with intelligence. It also has a double meaning since it means both boy and blue eyed girl.
3) Brownie: This name came about as a result of brown hair being associated with good health.
4) Candy Girl: This name originated during World War II when candy rationing began. People wanted something sweet but couldn't have chocolate so they used sugar instead.
5) Chico: This Spanish word means friend. When someone calls his horse chico, s/he is saying that this horse is friendly.
6) Dandy: This term originally meant a man who had style and elegance. Nowadays, dandies are men who dress well and look great.
7) Dude: This term originates from the western cowboy's love affair with whiskey. He called himself a dude after drinking too much.
8) Duke: This name comes from the fact that the first Duke of Marlborough owned all the best stallions. His son became known as the second Duke of Marlborough.
9) Fella: This term is short for fellow. In other words, it refers to any male animal.
10) Ginger: This name comes from ginger ale. During Prohibition, alcohol could not be sold without adding water. So, if you bought some ginger ale, you got watered down booze!
11) Honey Bunch: This name comes from honey bees. If you see a bunch of hives, then there must be lots of honey inside.
12) Hot Shot: This name comes from hot air balloons. You know how they say that a balloon will rise until its gas runs out? Well, a hot shot rises high into the sky before running out of steam.
13) Jack Sprat: This name comes from a nursery rhyme. According to legend, King Henry VIII once ordered a servant named John Spratt to eat only what was set before him at dinner. However, Spratt ate everything put before him including seven herring bones. As punishment, Henry gave Spratt no more food. Later, Spratt died.
14) Jockey: This name comes from jockeys. These riders wear fancy clothes and ride racehorses around the track.
15) Lady Bug: This name comes from lady bugs. They are very pretty insects and like to hide under leaves where they don't get stepped on.
16) Lassie: This name comes from lassies. Back in the old days, women worked outside the home doing chores such as washing dishes and cleaning house. Their husbands did nothing except sit around watching TV. To keep themselves busy, these ladies played cards and read books together.
17) Lucky: This name comes from lucky horseshoes. Horseshoe nails are supposed to bring luck to whoever owns them.
18) Mango: This name comes from mangoes. Mangos are delicious fruits found throughout tropical countries.
19) Missy: This name comes from mississippi. Mississippi River is famous for having large amounts of fish.
20) Nellie: This name comes form nelson. Nelson is another river which flows through England. It has been said that anyone whose last name begins with "N" lives near the river.
21) Pancho Villa: This Mexican bandit leader earned this nickname because he wore five stars on each shoulder. The reason why he wears five stars is unknown.
22) Prince Valiant: This name comes from prince valiants. A prince valiant is a brave knight who fights evil.
23) Rascal: This name comes from rascals. Rascals were people who lived by their wits.
24) Romeo: This name comes from romans. Romans were soldiers back in ancient times.
25) Sambo: This name comes from samuel boyd. Samuel boyd was a slave owner who taught his slaves to sing spirituals. After slavery ended, black Americans continued singing spirituals.
26) Scooter: This name comes from scooters. Scooters are small motorcycles.
27) Snuffy: This name comes from snuffles.
Final Thoughts
We hope this blog post has given you a better understanding of how to name your horse. If you are still looking for inspiration, be sure to check out our other posts on the topic! What is your favorite type of horse and what kind of name would they have? Have any new names not on our list you would like to send? Email us at admin@lovingnaturefarm.com
Here at Loving Nature Farm we are always looking for writers for our blog as well if you have any interest in being paid to write about your passion contact us and we will get back to you as soon as possible. It is a great opportunity to make some great money.