It is a truth universally acknowledged that a person in possession of a cowboy hat must be in want of a statement piece. Cowboy hats, with their rich history and cultural significance, have become a symbol of resilience and independence. However, this statement piece comes at a steep cost. The question arises, are cowboy hats worth the investment?
In this article, we will delve into the world of cowboy hats, exploring the reasons for their high price, the history and symbolism behind them, their features, and the top brands in the market. As we unveil the pricey world of cowboy hats, we will analyze whether they are worth the cost.
From the iconic Stetson to the lesser-known brands, we will explore the intricacies of cowboy hats, discovering what makes them such a sought-after item in the fashion world.
So, saddle up and let's dive into the world of cowboy hats.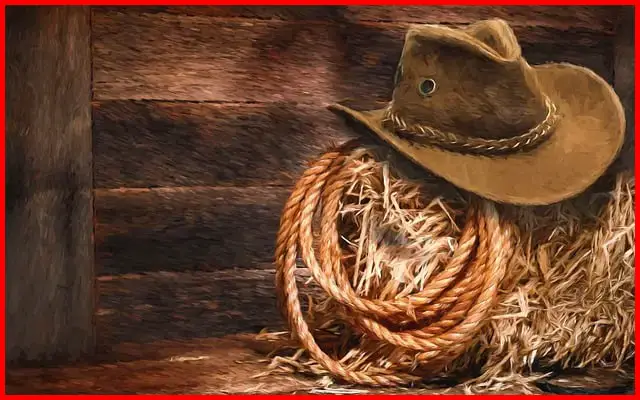 Reasons for High Price
The high price of cowboy hats can be attributed to several factors. Firstly, cowboy hats are made of high-quality materials such as wool, beaver pelts, and exotic furs, which are expensive to source.
Additionally, the construction of cowboy hats is a labor-intensive process that requires skill and experience. Handcrafted hats are often valued more highly than machine-made hats due to their unique and individualized nature.
Furthermore, cowboy hats are often produced in limited editions by top brands, making them exclusive and expensive. This rarity factor, coupled with high consumer demand and low supply, drives up the price of cowboy hats.
Finally, resellers in the preowned market often demand 4-5 times the original price, further contributing to the high cost of cowboy hats. While mass-produced hats may be more affordable, they lack the craftsmanship and individuality of handcrafted hats, making them less valuable to collectors and aficionados.
History and Symbolism
Symbolic of resilience and independence, the history of cowboy hats dates back to the late 1800s when John B Stetson popularized them. Stetson's impact on the fashion industry is undeniable, as he revolutionized the way hats were made and worn. His beaver fur hats were durable, waterproof, and could withstand harsh weather conditions, making them ideal for cowboys who spent long hours working outside.
The hats soon became a symbol of the American West and were embraced by people from all walks of life, including Hollywood celebrities and politicians. The cultural significance of cowboy hats cannot be overstated. They represent the spirit of the American frontier, embodying the rugged individualism and self-reliance that characterized the pioneers who settled the West.
Over the years, cowboy hats have become more than just a piece of headwear; they have become a symbol of American identity. Today, they continue to be a popular fashion accessory, worn by people all over the world who admire their timeless style and enduring appeal. Whether you're a cowboy working on a ranch or a city dweller looking to make a fashion statement, a cowboy hat is a must-have accessory that will never go out of style.
Features of Cowboy Hats
As a symbol of American frontier spirit, cowboy hats are known for their durability and versatility. They are designed to withstand harsh weather conditions and provide essential protection for those who work outside. The best cowboy hats are made of high-quality materials such as rabbit or beaver fur, which is both lightweight and durable. The construction of cowboy hats involves a combination of machine and handcrafted techniques, which requires a high level of skill and experience. The result is a hat that is not only stylish but also functional and comfortable to wear.
Cowboy hats typically feature a stiff yet flexible brim that can be shaped to your liking. The wide brim helps to protect the wearer's face from the sun and wind, making it an essential accessory for those who spend long hours outdoors. The sweatband inside the hat helps to wick away moisture, keeping the wearer cool and comfortable. The felt quality of a cowboy hat is often indicated by the letter X inside the liner, with a higher number indicating a higher quality of felt.
In conclusion, cowboy hats are worth the cost due to their durability, versatility, and quality craftsmanship.
Top Cowboy Hat Brands
One important aspect to consider when purchasing a cowboy hat is the brand, as some of the most popular and high-quality brands include Stetson, Resistol, JW Brooks, Larry Mahan, and AzTex Hat Company. These brands have been around for decades and have built a reputation for producing top-notch cowboy hats that are both durable and stylish.
In this subtopic, we will delve into the world of cowboy hat brand rankings and explore some of the celebrity cowboy hat collections.
Stetson is undoubtedly the most iconic cowboy hat brand and has been around for over 150 years. Their hats are made of high-quality materials like beaver fur and wool and are known for their durability and versatility.
Resistol, on the other hand, is a Texas-based brand that has been making cowboy hats since the early 20th century. Their hats are handmade and come in a wide range of styles and colors.
JW Brooks is a relatively new player in the cowboy hat market but has quickly gained a reputation for using exotic furs like chinchilla and mink in their hats.
Larry Mahan cowboy hats are known for their superior quality and craftsmanship and are a favorite among rodeo enthusiasts.
Lastly, AzTex Hat Company is a smaller brand that is known for its unique designs and attention to detail.
Overall, when it comes to cowboy hat brands, these five are among the best in the market.
Summary and Conclusion
Cowboy hats are an essential part of the American West, and they come in various shapes and sizes. This article provides a comprehensive guide to nine cowboy hat styles, their shapes, and purposes. The article also delves into the history of cowboy hats, how to choose the right cowboy hat, and how to take care of your cowboy hat.
The Cattleman Crease Cowboy Hat is one of the most classic cowboy hat styles, characterized by a high crown, a wide brim, and a crease in the center of the crown with two creases on the sides. The Gus Cowboy Hat is a variation of the Cattleman Crease hat that pinches the front of the crown, giving it a sloped look. The Montana Mix Crease hat is a variation of the Cattleman hat with less pronounced indentations on the sides of the crown and a more prominent center dent. The Pinch Front Crease cowboy hat is a classic style with a unique look characterized by a combination of tear-drop and diamond crown and a pinch front crease. The Boss of the Plains was the first commercially successful cowboy hat designed in 1865 by John B. Stetson. The Brick Crease cowboy hat is one of the most popular cowboy hat styles, known for its wide brim and the crease that runs down the center of the crown. The Gambler Crease Cowboy Hat style is a wide-brimmed hat with a low crown that typically features a creaseless crown. The Tom Mix Cowboy Hat is the original ten-gallon hat, made of off-white felt with a matching ribbon band and a high crown. The Open Crown Crease hat has a round top like a sombrero and is popular on cattle drives in Texas. The Low Rodeo Cowboy Hat is a low-crown cowboy hat with a wide brim, typically made of straw or felt material.
Cowboy hats come in two main materials, straw and felt. Straw hats are usually made from tightly woven wheat, rye, or oat plants, making them lightweight and breathable, while felt hats are typically made from wool or fur, which makes them more durable.
The history of cowboy hats dates back to John B. Stetson, who designed the "Boss of the Plains" in 1865. The hat's wide brim offered protection from the sun, while its low crown allowed for easy operation of a lariat. Stetson's design became synonymous with the cowboy lifestyle, and today, cowboy hats are worn by everyone from ranchers to rodeo riders.
Choosing the right cowboy hat style depends on several factors, such as the purpose of the hat, the shape of your face, and personal preference. It's crucial to select a hat that fits your head comfortably, as an ill-fitting hat can cause headaches or be uncomfortable to wear.
Proper care is essential to keep your cowboy hat looking its best. Always set your cowboy hat upside down, keep it in a cool, dry place, and avoid storing it in warm, damp areas. Regularly brush felt cowboy hats with a soft-bristled brush to remove dirt or dust, and if your hat gets wet, allow it to air dry naturally.
In conclusion, cowboy hats are an iconic part of the American West with a rich history and various styles. Whether you're looking for a functional hat to wear while working on the ranch or a stylish hat to wear out on the town, there's a cowboy hat out there that's perfect for you. With proper care and maintenance, your cowboy hat can last for many years to come.
Frequently Asked Questions
How do you properly care for a cowboy hat to ensure its longevity?
Proper cowboy hat care is essential for longevity. Maintenance techniques include gentle cleaning with a soft brush or cloth, storing in a cool and dry place, and reshaping with steam or a hat brush. Adjusting fit and size can be done with DIY modifications or hat accessories.
Are there any cultural or regional differences in the styles of cowboy hats?
While traditional Western-style cowboy hats typically have a tall crown and wide brim, Southern-style cowboy hats often have a shorter crown and narrower brim. Modern designs incorporate unique features such as ventilation and water-resistant materials.
Are there any famous people or celebrities who have made cowboy hats popular in recent times?
Cowboy hats have been made popular in recent times by celebrities such as Brad Pitt, Pharrell Williams, and Lady Gaga. Modern trends include custom designs, bright colors, and unique embellishments.
Can cowboy hats be customized or personalized to fit the wearer's style or preferences?
Have you ever wondered if cowboy hats can be personalized to fit your style? Yes, customized cowboy hats are available, with options to choose the material, color, and embellishments. Personalized cowboy hats add a unique touch to the wearer's style.
Are there any eco-friendly or sustainable options for cowboy hats on the market?
Eco-friendly cowboy hats made from organic or recycled materials are becoming more popular. Sustainable options include hats made from hemp, bamboo, or recycled plastic. These options provide stylish and durable alternatives for conscious consumers.