Horses have long been admired for their speed and grace, with their ability to run at incredible speeds making them a popular choice for sports and recreation. However, not all horses are created equal when it comes to speed, and some breeds have been specifically bred for their exceptional speed and agility.
In this article, we will explore the common traits and records of the world's fastest horses, examining the factors that affect their speed, the different breeds of horses, and the anatomy of their movement.
One of the most important factors that determine a horse's speed is its genetics, with certain breeds being naturally faster than others. Additionally, factors such as training, diet, and exercise can also impact a horse's speed and performance.
By understanding the various factors that contribute to a horse's speed, we can gain a deeper appreciation for these magnificent animals and the incredible feats they are capable of achieving.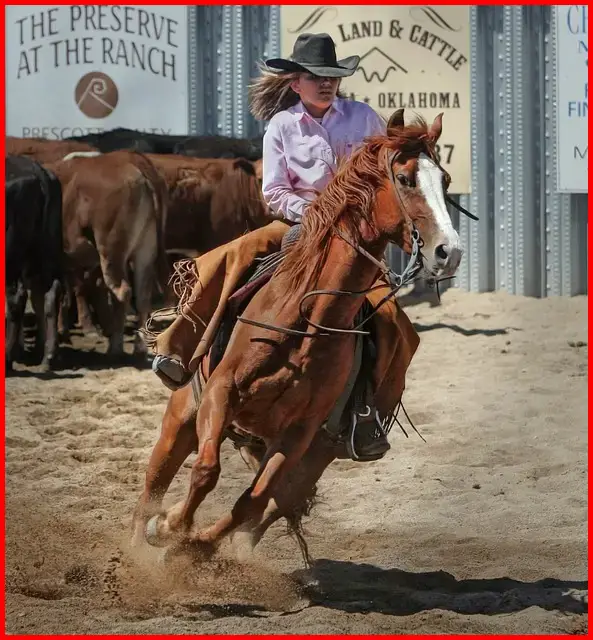 List of Horse Breeds and Their Fastest Recorded Speeds
1. Quarter Horse: The fastest recorded speed of a Quarter Horse is 55 mph. This breed is known for its incredible speed and acceleration over short distances.
2. Thoroughbred: The Guinness World Record recognizes the Thoroughbred breed for the fastest recorded time at 43.97 mph. Thoroughbreds are renowned for their speed and endurance in long-distance races.
3. Arabian: Although known more for their endurance than speed, some Arabian horses have been reported to reach top speeds of 40 mph. They are known for their agility and stamina.
4. American Paint Horse: While there is no specific recorded top speed for American Paint Horses, they are known for their speed and agility. These horses often have Quarter Horse bloodlines, contributing to their speed.
5. Standardbred: The fastest recorded time for a Standardbred horse pacing a mile is one minute and 46.20 seconds. Standardbreds are primarily bred for harness racing and are known for their ability to maintain a consistent pace over longer distances.
6. Appaloosa: The record for an Appaloosa horse racing 350 yards is 17.40 seconds. Appaloosas, known for their unique spotted coats, are often used in racing in the Western United States.
It is important to note that these speeds are based on recorded times and may vary among individual horses of each breed. Additionally, factors such as race distance, track conditions, and individual training can also influence a horse's speed.
Top Speeds and Factors
When considering the top speeds and factors affecting horse speed, it is important to note that longer stride length, rather than height or weight, is the most important factor. This is exemplified by Eclipse, the greatest racehorse in history, who had a stride length of 24 feet, which was almost twice the length of an average horse's stride. A longer stride length directly correlates with increased speed, as it allows the horse to cover more ground with each stride.
In addition to stride length, the circulatory system and stride rate also play a crucial role in a horse's speed. Open airways and a healthy circulatory system are necessary for high stride rate, which is the number of strides a horse takes in a given time. A high stride rate allows the horse to maintain a fast pace for longer periods of time, which is an important factor in longer distance races. Therefore, a horse with a longer stride length and a high stride rate is more likely to have a faster top speed.
Types of Horse Breeds
One way to classify horses is by their breed, with various breeds having different characteristics and purposes in racing and other equestrian disciplines. Some horse breeds are known for their endurance, while others are bred for their speed. Arabian horses, for example, are known for their stamina and can cover long distances without tiring. On the other hand, Thoroughbred horses are known for their speed and are commonly used in races that require short bursts of energy.
Apart from their physical characteristics, horse breeds can also be classified by their regional popularity. For instance, Quarter Horses are popular in North America, especially in the United States, where they are often used in rodeos and other Western-style riding events. Meanwhile, Appaloosa horses are popular in the Western United States and are often used in racing events that showcase their distinctive spotted coats.
Understanding the different breeds of horses and their unique traits is important for horse enthusiasts, trainers, and breeders who want to optimize the performance of their horses in various equestrian activities.
Anatomy of Movement
The anatomy of movement in horses involves the synchronized functioning of their skeletal and muscular systems to achieve optimal stride length, stride angle, and stride rate. The horse's skeletal system, including its legs, spine, and pelvis, provides the structure for movement. The muscles, including those in the legs, back, and abdomen, generate the force needed to move the horse forward. The horse's stride is determined by the length of its legs, the angle at which they are positioned, and the force generated by the muscles.
One of the most important factors in a horse's speed is its stride angle. The higher the angle, the longer the horse's stride and the faster it can run. For example, Secretariat, one of the fastest racehorses in history, had a stride angle of 110 degrees, which contributed to his impressive speed. Another crucial factor in a horse's movement is its respiratory system. Horses need to breathe in large amounts of oxygen to fuel their muscles, especially during high-intensity exercise. Therefore, a well-developed circulatory and respiratory system is necessary for a horse to achieve a high stride rate and maintain it for an extended period.
| Horse Breed | Stride Angle | Speed (MPH) |
| --- | --- | --- |
| Thoroughbred | 90-100 | 45-50 |
| Quarter Horse | 80-90 | 45-50 |
| Appaloosa | 80-90 | 40-45 |
The table above shows the stride angle and speed of various horse breeds. As we can see, Thoroughbreds have the highest stride angle, which contributes to their impressive speed. Quarter Horses and Appaloosas, on the other hand, have slightly lower stride angles but still perform well in races. Ultimately, a horse's ability to move quickly and efficiently depends on the synchronized functioning of its skeletal, muscular, circulatory, and respiratory systems.
Famous Racehorses
Famous racehorses have captivated audiences for generations, with Secretariat standing out as the horse with the highest stride angle at 110 degrees, contributing to his impressive speed of 37mph.
However, there have been other racehorses that have made significant contributions to the horse racing industry. Phar Lap, for instance, was an Australian racehorse that managed to win 37 races in his career, including the Melbourne Cup in 1930. Despite being poisoned before his intended race in 1932, Phar Lap's legacy continued, with his heart being preserved at the National Museum of Australia.
Another notable racehorse is Seabiscuit, an American Thoroughbred that was known for his underdog story. Despite being small and unimpressive in appearance, Seabiscuit managed to win several races, including the Santa Anita Handicap in 1940. His story was later turned into a book and a movie, which brought him to a wider audience and solidified his place in racing history.
These racehorses, along with others, have had a significant impact on the horse racing industry and continue to be remembered for their career highlights and legacies.
Summary and Conclusion
The world's fastest horses are truly remarkable creatures, capable of reaching speeds that surpass almost every other animal on the planet. While the Thoroughbred holds the Guinness World Record for the fastest recorded time, other horse breeds can be faster over shorter distances. For example, Quarterhorses have been clocked running at a remarkable speed of 55 mph, making them the fastest breed. Thoroughbreds, known for their long legs and lean muscular bodies, can reach speeds of up to 43.97 mph. Arabian horses, though not known for their speed, have been reported to reach top speeds of 40 mph. Additionally, the American Paint Horse, Standardbred, and Appaloosa all have impressive speed records.
The physical traits and anatomy of these horses play a crucial role in their speed. The ideal combination of frame and muscle, with average height and proportionate muscling, results in the fastest horses. Balance is key, allowing the horse to stretch and recoil their frame, covering more ground with each stride. The horse's stride, stride rate, and stride angle also contribute significantly to their speed. Horses with long strides and high stride rates tend to be faster. Furthermore, factors such as genetics, weight, surface texture, and the horse's fitness level can influence their speed.
In conclusion, the world's fastest horses are a magnificent sight to behold. Their speed is a result of a combination of factors, including their breed, physical traits, anatomy, and training. From Quarterhorses to Thoroughbreds, Arabian horses to American Paint Horses, these incredible animals showcase the power and grace of equine athleticism. Whether racing over short distances or longer endurance races, these horses demonstrate their exceptional speed and endurance, making them true champions in the world of horse racing.
Frequently Asked Questions
What is the average lifespan of a racehorse?
The average lifespan of a racehorse is around 25-30 years, but their career typically lasts only 2-5 years. Racehorse health and retirement process are important considerations, with many organizations now providing retirement and rehoming options for retired racehorses.
How do horses communicate with each other?
Horses communicate with each other through body language and vocalizations, such as whinnies and neighs. They use their ears, eyes, and tail movements to convey different emotions and intentions, including aggression, fear, and submission.
Can horses remember their previous owners or trainers?
Research suggests that horses have strong long-term memories and can remember their previous owners or trainers. However, there is little evidence to suggest that they have emotional attachments to humans.
How do trainers ensure the safety of jockeys during races?
Jockey safety precautions during races vary, but include helmets, vests, and stirrup release systems. Racehorse training techniques involve conditioning for fitness, stride length, and rate, as well as open airways and circulatory systems.
What is the process for retiring a racehorse and finding them a new home?
To retire a racehorse, owners can sell or donate them to individuals, organizations, or rescue groups. Finding homes may involve assessing the horse's temperament and abilities, as well as ensuring proper care and training for their future career or retirement.